I am proud as can be to introduce you to my Farmgirl sister and our fourth ever Farmgirl of the Year, Emily Hack …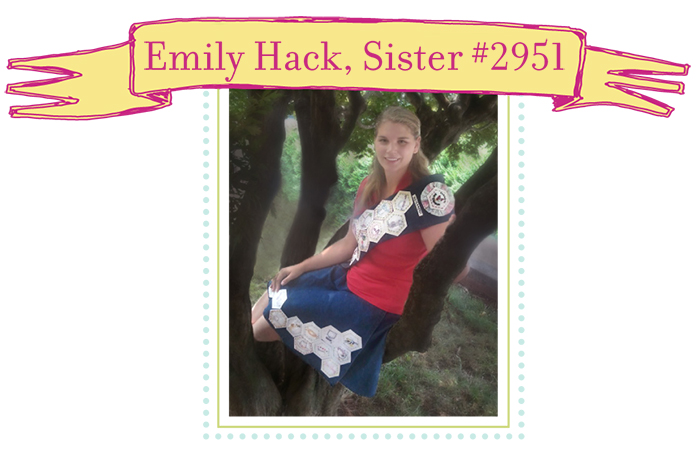 When we chose Emily as this year's Farmgirl of the Year, she had earned an impressive 77 merit badges—and since then, she's earned seven more! So, with a grand total (as of the time I'm writing this, maybe more by the time you're reading it) of 84 merit badges, Emily has certainly earned this recognition.
What's even more impressive is that Emily has earned all her badges in just a little over a year. That means she's been racking 'em up (or sewing them on) at a rate of over five per month. Emily says she loves earning badges because of the sense of accomplishment it provides. "It's a wondrous feeling," she says. "I have always loved to learn things that I wasn't exposed to as a child, and doing this with MaryJanesFarm gives me new goals to work for."
Emily was born in Pittsburgh, PA, and now lives in York, PA, with her husband Richard, their two small children Bridget and William, and their little Scottish terrier, Gracie. She loves sewing, baking, and writing, and hopes to one day pass an appreciation for those things along to younger women by becoming a home economics teacher.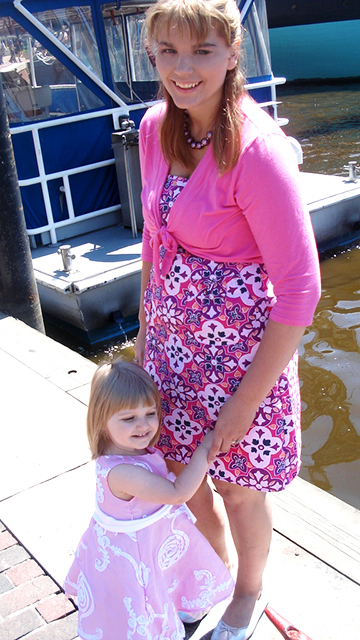 Emily learned to sew when she was in middle school and has been doing it ever since. "It's my real passion in life," she told me. She also likes to quilt, which she's been doing since college. She loved sewing so much that she left college to join her family's business of altering bridal gowns and formal wear. "It was there that I learned how the body curves and how to put patterns together," she says.
Her passion for creativity and sewing eventually led her to the world of costuming, a hobby that she and her husband enjoy together. She also makes civil war gowns, aprons, jewelry, and baby and maternity items (she sells a few of her things on her Etsy shop). And she makes clothes for her children. Whew—her sewing machine needs a merit badge of its own!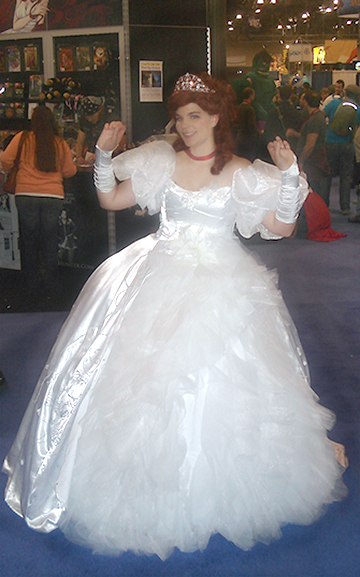 Emily found MaryJanesFarm last year when she was looking for some help with her vegetable garden. "I'm a newbie gardener," she says. "I started some cucumbers indoors and they died when I transplanted them outside—I think I shocked them. I was looking around online for some advice and found answers to all my homesteading questions in the Farmgirl chatrooms."
Emily's astounding Farmgirl efforts will be well-rewarded. The "prize package" changes each year, and this year we're loading Emily up with what we think a fantastic Farmgirl like her deserves. In addition to becoming a lifetime member of the Farmgirl Sisterhood, she'll receive:
-    A lifetime subscription to MaryJanesFarm magazine including all back issues except those sold out
-    A Farmgirl Sisterhood necklace
-    All of my books, including my new one (that's not even out yet!), Glamping with MaryJane, and any future books I publish
-    A MaryJanesFarm 2013 calendar
-    A $500 gift certificate to use on our online store
-    A set of my organic bed sheets
-    A package of Farmgirl fun surprises
I'm so glad you found us, Emily, and a huge congratulations on being the 2012 Farmgirl of the Year. Keep on earning those badges, sister!