Wondering who I am? I'm Merit Badge Awardee Jane (MBA Jane for short). In my former life …
The requirements for this badge made me giggle a bit:
Pick a simple pattern, like a doll-sized quilt …
and
There is a three-hour minimum time investment required …
Somehow, I don't think those two things will be a problem. I, myself, am rather doll-sized, and it usually takes a three-hour time commitment for me to thread a needle, so it's all good.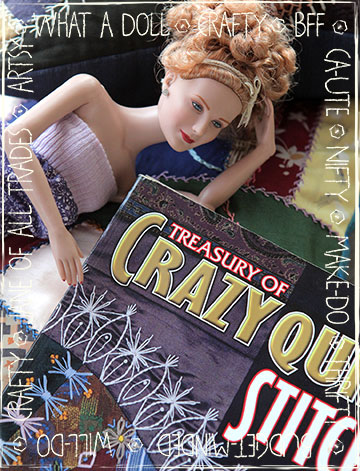 I fell in love with the pattern of a Crazy Quilt. You know the kind. The kind that, um, doesn't actually USE a pattern? Right up my alley. I'm a crafter who doesn't play by the rules. Can't fence me in.
I'm a rogue quilter!
*cue the movie trailer music*
I decided to really get my craftiness on, and use fabric from my life. You know. Fabric from something I love. It is National Sewing Month after all.
Like:
the pocket from my granddad's cover-alls
pieces from my aunt's apron that was disintegrating right before my eyes
a square cut out from my first ballet recital costume
some remnants from my security blankie I had as a baby
a scrap from the blanket I brought my Pomeranian home from the pound in
a tea towel from my mommy that makes me think of her banana bread
And to back it all:
the tablecloth from my parent's wedding reception 
At first, I was feeling a little guilty, a tad choked up, and a smidge nervous about cutting into these precious textiles. But when I remembered they were getting a new life (a life curled up with moi in front of a marathon of Downton Abbey), I had renewed energy and determination!
Midge was kind enough to loan me her rotary cutter, which I confess, I totally thought was a pizza cutter at first. I eyeballed it, bewildered, craving Canadian bacon and pineapple, until she showed me how to use it on a piece of nearby calico. Sah-weet!
The other fun thing about Crazy Quiltin' is cutting all sorts of shapes and sizes. My Home Ec teacher used to say I couldn't cut a straight line with a skilsaw, so this quilt is actually kinda perfect for willy-nilly, rogue quilters, like me.
Star shapes, circles, half circles, squares, rectangles, strips, blobs … they're all in there, happy as pigs in mud! I started arranging and rearranging like a woman obsessed. I nearly ended up with Swiss cheese fingers by the time I was done pinning, but by golly, it looked gorgeous! Really! Like something out of a crafter's magazine.
Rogue Crafter's Monthly, Crazy Quilts, and the Women Who Love Them
The next part was the sewing, and for that I had to fire up a rerun of Downton Abbey. Then naturally, I had to brew some English Breakfast, because who can watch British television without a cuppa? Then I got distracted and had to bake up some scones.
Yeah. There is a definite three-hour time commitment to this badge.
My quilting badge took Seasons 1 and 2, respectively.
And if I quilt with my pinky up, the way Maggie Smith drinks tea, well, that's just a pleasant side effect.