The adorable, always humorous MBA Jane is my way of honoring our Sisterhood Merit Badge program, now with 4,690 dues-paying members who have earned an amazing number of merit badges so far—6,500 total! Take it away, MBA Jane!!! MJ
Wondering who I am? I'm Merit Badge Awardee Jane (MBA Jane for short). In my former life …
Well, 'tis Christmas week! It's here, it's here! It's finally here!
In case it wasn't obvious, I heart Christmas. Maybe it's the jingle bells, maybe it's the fa-la-las, maybe it's the sugar 'round the clock, but this year, it's gonna be mostly about the homemade gifts and ornaments coming from Yours Truly in order to earn my beginner level Homespun Christmas Merit Badge. That's right, just call me Jane, the Holiday Elf …
I've been collecting ideas pretty much all year, and then it took me all of last week just to narrow down my extensive list from Way Too Much, to Only Achievable by Martha Stewart, to Maybe in My Dreams, to We're Getting More Realistic Now, to Totally Do-Able. It was easy to weed out the ones that would have broken the bank, so here's what I'm down to and what I'm doing all week:
-salt dough (good for tiny ornaments, decorations, or candlestick holders)
-felt projects (ornaments and/or headbands for my girlfriends with abundant tresses)
-button ornaments
-dog biscuit recipe (for my canine gift-ees)
And of course, assorted organic baked goodies
I started with the button ornaments. I've been collecting them anyway, for my Buttoned Up badge, but I guess I'll have to start over. Ah well, such is life. To make my darling ornaments, I simply used sparkling ribbon and threaded my buttons through. Now, if you get super creative, you can stack them according to size, smallest to largest, and voila … you have a Christmas tree shape. Oh. My. Heart. Seriously, cutest things ever. Try experimenting—use wire instead of ribbon or beads instead of buttons. I like to use a Sharpie to sign my work of art with the date on the bottom button. I made five of these: two for my aunties, one for my neighbor, one for my mail lady, and … ahem … one for myself.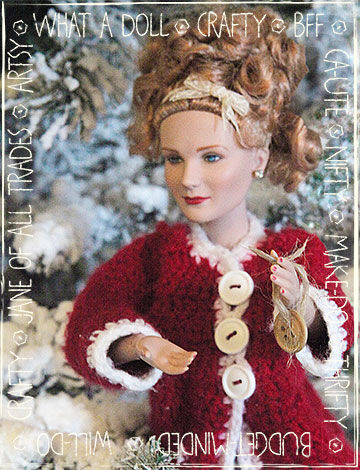 After dinner that same day (boy, spread me with local honey and organic butter—was I on a roll or what??), I started some felt projects. I have a weakness for snowmen and snowladies and snowchildren and pretty much anything that has to do with snowpeople, so I bought quite a thick stack of white felt. Then I used my biscuit cutters to trace several different sizes of circles. I used black felt for top hats for the gentlemen and sparkling purple felt for the ladies. I had quite a bit of fun decorating these little sweeties: mittens and scarves, buttons and ties, boots, and tiny triangles of orange for their carrot noses. They were so adorable, I had to take a break and go make a real snowman in the backyard. This was difficult without any snow, so I raked up leaves (in a rather depressed fashion, I'll admit), stuffed them in three white garbage bags, stacked them on top of one another, and then proceeded to decorate the bags. I have to say, pretty jolly. Though it was hard getting the carrot to hang correctly, so I ate it. He's a noseless snowman, so sue me.
With all my tiny pieces of leftover scraps of felt, I got my hot glue gun heated up again and made some great headbands for my girlfriends.
After that, I was totally exhausted from all my merry making and decking the halls, so I went to bed. Tomorrow: salt dough.