It's that peardelicious time of year again. Today's recipe uses the amazingly, juicy, sweet Asian pear.


CHICKEN AND ASIAN PEAR SALAD
PREP TIME: 1 HOUR 15 MINUTES, PLUS 1 HOUR MARINATING TIME
COOK TIME: 15 MINUTES
SERVES: 4
MARINADE
1        lemon, divided
4       green onion bottoms, minced (reserve tops for salad)
1       T ginger, minced
1       garlic clove, peeled, and minced
1       small Asian pear, cored, peeled, and minced
2       T apple cider vinegar
½      t toasted sesame oil
1       t salt
½      t pepper
1       lb boneless, skinless, chicken breast, sliced into 1/8" thick strips
1 ½   T coconut oil
SALAD DRESSING
2    T apple cider vinegar
1    T toasted sesame oil
1    T brown sugar
¼    t salt
1½  T sesame seeds, toasted
reserved ½ lemon from marinade
SALAD
1    head green leaf lettuce, torn into bite-sized pieces
½    head purple cabbage, thinly sliced
1    cucumber, thinly sliced
5    read radishes, thinly sliced
1    lb Asian pears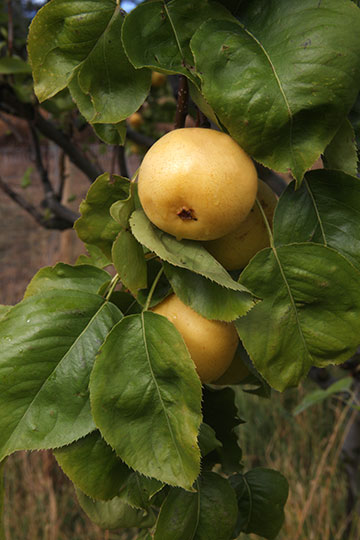 DIRECTIONS
1. In a medium bowl, zest the lemon, cut in half and squeeze the juice out of one half, and reserve the other half for the salad dressing. Add the minced green onions, minced ginger, minced garlic, minced Asian pear, apple cider vinegar, sesame oil, salt and pepper. Mix well, toss with chicken, cover and refrigerate for 45 minutes.
2. To make the dressing, using a small bowl, combine the apple cider vinegar, toasted sesame oil, brown sugar, salt, sesame seeds, and the juice from the reserved lemon half. Whisk well to combine and set aside.
3. In a large bowl, combine the green leaf lettuce, purple cabbage, cucumber, radishes, and Asian pears. Coat with dressing, and toss to combine. Set aside.
4. In a large skillet, melt the coconut oil over medium high heat. Once the oil is melted and aromatic, add the chicken to the skillet and cook for about 15 minutes, or until internal temperature reaches 160°F.
5. Toss chicken with salad, and get ready to smack your lips!