When is the last time you took a bath in the forest?
I know what you're thinking
because you know how I think …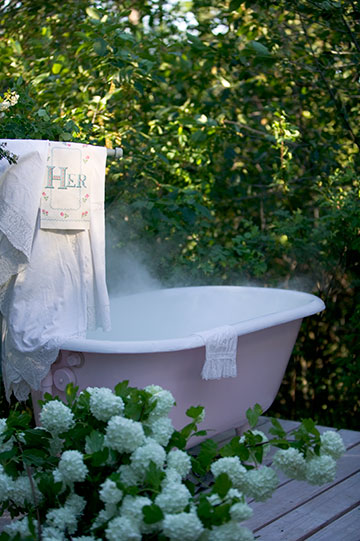 Yup.
Yet, as much as I love them, I wasn't talking about outdoor tubs.
The sort of "bathing" I have in mind is rooted in the Japanese concept of
Shinrin-yoku,
which means "forest bathing" or, more literally, "taking in the forest atmosphere."
Now, don't get me wrong, I'm sure that one could practice Shinrin-yoku
while bathing …
in a tub …
outdoors.
In fact, that sounds like a brilliant match, and this Japanese outdoor tub looks divine:
But, according to Japanese researchers, a tub isn't necessary to reap the benefits of "bathing."
"[Shinrin-yoku] was developed in Japan during the 1980s and has become a cornerstone of preventive health care and healing in Japanese medicine," explains Shinrin-yoku.org, an organization dedicated to promotion of the practice of Shinrin-yoku and other forms of nature-immersion therapy. "Researchers, primarily in Japan and South Korea, have established a robust body of scientific literature on the health benefits of spending time under the canopy of a living forest. Now their research is helping to establish Shinrin-yoku throughout the world."
It's simple: Visit a natural area and relax for a while to gain calming, rejuvenating, and restorative benefits for body and spirit.
"We have always known this intuitively," says Amos Clifford, founder of Shinrin-yoku.org. "But in the past several decades, there have been many scientific studies that are demonstrating the mechanisms behind the healing effects of simply being in wild and natural areas. For example, many trees give off organic compounds that support our 'NK' (natural killer) cells that are part of our immune system's way of fighting cancer."
Other scientifically-proven benefits of Shinrin-yoku include:
Lowered blood pressure
Lowered pulse rate
Reduced cortisol levels
Increased vigor
Reduced anger
Reduced depression
The forest is waiting …