This lovely little slice of life was shared on the Farmgirl Connection chatroom last year by our Farmgirl Sister of the Year, Winnie (Red Tractor Girl), and I revisited it when one of the "milk-cow moms" over on my Heritage Jersey Organization chatroom named her most recent calf Pumpkin Moonshine. (If you're a cow mom or dream of one day having a backyard milk cow, be sure to visit the HJO chatroom.)
Winnie's post was:  "I am back from my visit up to Virginia and North Carolina to see my sisters and daughter. We had wonderful crisp fall weather, gathered apples, wore warm clothes, and shivered on mountaintops. It was wonderful in every way! So today, I am getting caught up here at home and started to get ready for Halloween. Do you all remember Tasha Tudor's delightful children's Halloween story called Pumpkin Moonshine? I have a paperback copy, and it has been one of my favorites since I found it when my children were little."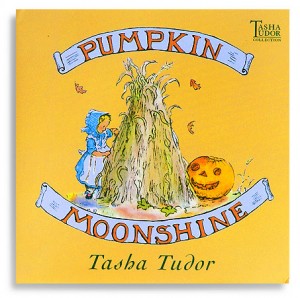 Moonshine? No, silly—not THAT kind of moonshine!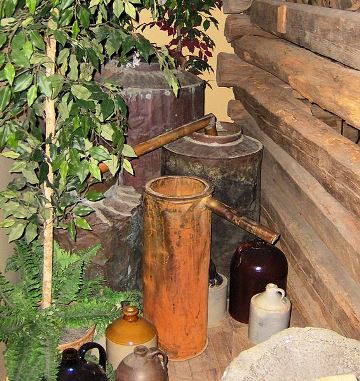 THIS kind of moonshine …
… more commonly known as a jack-o'-lantern. In the utterly charming Pumpkin Moonshine, little Sylvie Ann climbs to Grandpawp's cornfield atop a high hill and finds the biggest, finest pumpkin in the field.
She is determined to transform it into a "fierce and horrid" pumpkin moonshine for Halloween. But it is much to large to carry, so how will she get it home? Why … she'll roll it, of course! Ker thumpity, bumpity, thump! Watch out, goats!
Can Sylvie catch the pumpkin before it bowls over the goats, frightens the hens, enrages the geese, and bumps into Mr. Hemmelskamp, who is carrying a pail full of whitewash?
Well now, you'll just have to read the book to find out. But I'll tell you that one of my favorite parts of the book is the end—don't worry, this isn't a spoiler—when Sylvie saves her pumpkin's seeds for next year. How farmgirl is that? This fall, you might want to take the "pumpkin moonshine" theme a step further by carving a gorgeous, ghostly white Moonshine (or Valenciano or Polar Bear) pumpkin for Halloween. You can save your seeds after scooping or buy some for next year at ReimerSeeds.com.
I don't think that the pumpkin in the photo above is actually white, but who knows? And it was just too good not to share! P.S. Pumpkin Moonshine, Tasha Tudor's first book, was originally published in 1938 as a calico-bound first edition (because Tasha submitted her manuscript to Oxford University Press in a quaint wrapping of calico fabric).
You can buy this rare first edition at Bauman Rare Books for a mere $1,200. Thankfully, Pumpkin Moonshine is once again in print and available for an extremely reasonable price on Amazon.com. I say "extremely reasonable" in light of prices tagged to Tasha's early works (take a peek at this coveted page from her first rendering of Pumpkin Moonshine, appraised by Antiques Roadshow at a value of $8,000 to $10,000).
P.P.S. You can read more about Tasha Tudor in the "Sister Act" April/May 2011 issue of MaryJanesFarm, still available in our "Back Issues Bundle #6."