Just because the season of "fun in the sun" has passed doesn't mean that you need to stuff your suitcase into storage. In fact, I discovered a positively sparkling idea for a late autumn getaway, and I can't wait to share it with you. You might say it's a real gem.
Come on, let's hit the road.
Here's your packing list:
Closed-toe shoes
Small shovel
Chisel
Safety glasses
Bucket
Weather-proof wardrobe, including garden gloves and a handy kneeling pad
Consider this trip a good excuse to buy a darling set like this one from HomegrownHandmade on Etsy: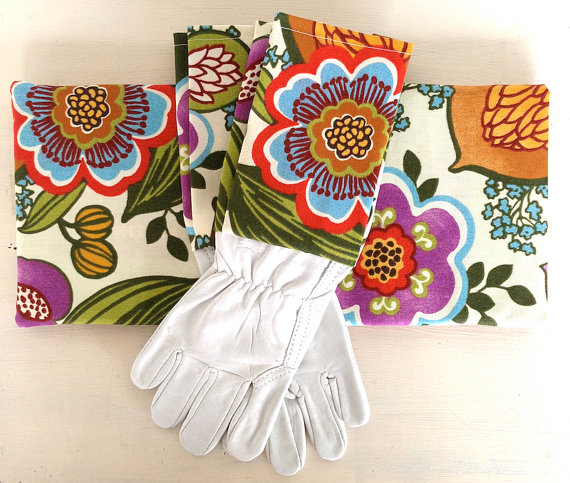 Love, love, love!
But, MaryJane … (I can hear you) … you're not suggesting a garden getaway in November, are you?
No, but, being the outdoorsy, yet fashionable, farmgirls that we are, this little straycation is perfect for us. We're sure to get our hands dirty. and if we're lucky, we'll dig up a bit of "bling" to take home. You guessed it—we're going hunting for gemstones.
Slow down, Sal—the gems we're after are likely to look a little more like this (if we're lucky):
And, this is how we'll find 'em:
Nothing beats a DIY diamond.
Unlike gems mined worldwide at horrific costs to human safety and the environment, hunting for treasure in the U.S. is a fun and relatively harmless pursuit for the whole family (as long as you have one of those kneeling pads I mentioned). Numerous small mines scattered across the country welcome tourists to come and try their hand at excavating diamonds, sapphires, rubies, emeralds, and more—finders keepers, no matter how big the find!
"The most family-friendly options, where you dig or sluice through dirt and creeks, offer low admission and cheap gear rentals, as well as tours, kid-friendly activities, and even cabins to rent," writes Katrina Brown Hunt of MiniTime.com. "Staffers can usually inspect and mount your finds, but the thrill of the chase—combined with a little education in geology and history—may be its own reward."
The four mines on our itinerary are all open during the fall or year-round, but there are others that would be worth visiting during other months of the year (check out a full list of 10 Great Places to Hunt for Treasure at USAToday.com). Now, since we're already dabbling in dreams of diamonds, let's head to Arkansas first …
Crater of Diamonds State Park
 Arkansas's Crater of Diamonds State Park is the only diamond-producing site in the world where the public can search for real diamonds in shades of white, gold, and brown.
What to Look For: Gem quality diamonds
Location: Murfreesboro, Arkansas (about 120 miles southwest of Little Rock)
How to Hunt: Hunt for diamonds throughout a 37-acre plowed field, which is the eroded surface of an ancient, gem-bearing volcanic crater. Search by walking up and down the rows, looking for diamonds lying on top of the ground. Or go ahead and dig in the soil with your own tools from home or tools available for rent at the park visitor center. Park staff provides free identification and certification of found diamonds.
Admission: $7 for adults, $4 for children 6 to 12, free for kids under 6
Open Season: Year round
Nicknamed "Herkimer Diamonds" because of their diamond-like geometrical shape, this mine's 500 million-year-old crystals are striking to behold.
What to Look For: Double-terminated quartz crystals nicknamed "Herkimer Diamonds"
Location: Herkimer, New York ( about 85 miles northwest of Albany)
How to Hunt: Crystals can be broken out of rocks with a hammer and chisel (included in the admission fee) or collected by casually looking around the prospect area.
Admission: $11 for ages 13 and up, $9 for ages 5 to 12, free for kids 4 and under
Open Season: April 15 to October 31
Emerald Hollow Mine is the only emerald mine in the United States open to public prospecting.
What to Look For: Emeralds, aquamarines, sapphires, garnets, topaz, and amethysts
Location: Hiddenite, North Carolina (about an hour off the Blue Ridge Parkway)
How to Hunt: Sit at one of three sluiceways, where you can pick over buckets taken directly from the mine, or pan in the river
Admission: $5 per person for bucket sluicing, $10 per person to pan in the river, and $100 for a "Cutter's Choice" bucket guaranteed to contain rough but facet-grade gemstones
Open Season: Year round
"We are one of the two last remaining 'native gemstone only' mines open to the public in the Franklin, North Carolina, area," explains the mine's website. "Our two-gallon buckets of ore contain a virtual treasure trove of naturally occurring Cowee Valley gemstones, including world class and 'precious investor' or 'collector grade' rubies and sapphires."
What to Look For: Rubies, sapphires, garnets, and moonstones
Location: Franklin, North Carolina (about 67 miles southwest of Asheville)
How to Hunt: Dig your own gemstone gravel or select 2-gallon buckets of gem ore to sift through. On the flume line, you'll rest your screen box (included in the admission fee) across the flume so that you can hand wash the gravel and watch for gemstones.
Admission: $15 for ages 12 and up, $10 for kids 6 to 11, free for ages 5 and under (for a dollar extra, you can get a shade umbrella)
Open Season: April 1 to October 31