It's no secret that here at the farm, cows are our favorite critters. And I think it's a no-brainer to those of us who have spent time with our bovine friends that cows regularly talk to each other. With worldwide cattle populations at around 1.3 billion, these ordinary "conversations" are beginning to get noticed, and this has compelled researchers to take a good look at what it means when cows moo.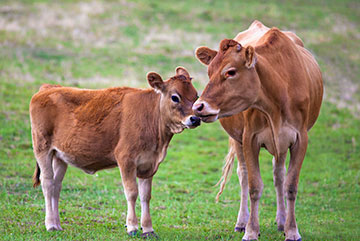 According to the Huffington Post, Scientists at Queen Mary University in London, England, have been listening to the dialogue between cows and their calves. Teams spent 10 months recording call sounds from two herds of free-range cattle and then another few months analyzing them. The results of the study, recently published in The Journal of Applied Animal Behavior Science, showed that cows give two types of contact calls to their calves. The first is a quiet, low-frequency call when a calf is safely nearby, whereas the second is a louder, high-frequency call, mostly indicating stress that the calf is too far away. And the recordings have proven that cattle calls between a mother and her offspring are individualized … that is, each cow and calf have characteristic, exclusive calls.
And despite rumors I've heard to the contrary, it appears that cows in different parts of the world do not, in fact, moo with a different accent, although what an absolutely lovely thought!