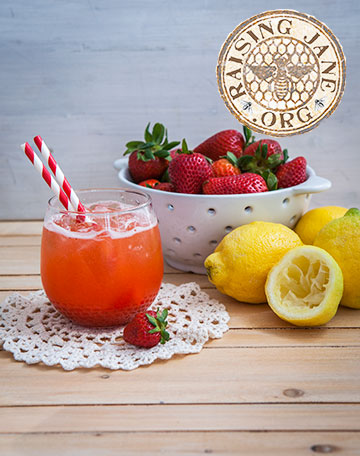 SPARKLING STRAWBERRY LEMONADE
PREP TIME: 10 MINUTES, PLUS 15 MINUTES COOLING TIME
COOK TIME: 10 MINUTES
MAKES: ABOUT 4 1/2 CUPS
10 ozs strawberries, stemmed and quartered (about 1 3/4 cups)
1/2 cup sugar
1/2 cup fresh lemon juice, strained (about 3 lemons)
24 ozs sparkling mineral water
ice for serving
1. In a small saucepan over medium heat, combine strawberries and sugar. Bring to a boil, stirring frequently until sugar is dissolved and berries are soft.
2. Remove from heat and purée using an immersion blender (or cool slightly and purée in a food processor or blender).
3. Cool mixture for 15 minutes, then mix in lemon juice. Transfer to an airtight container and refrigerate until ready to serve.
4. For individual servings, combine 1/4 cup strawberry mixture with 1/2 cup sparkling water. Serve over ice. (To mix up a large batch, combine all of the strawberry mixture with sparkling water and serve over ice.)
Gather ingredients.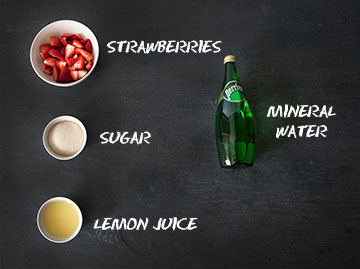 Add 10 ozs stemmed and quartered strawberries (about 1 3/4 cups) to a small saucepan.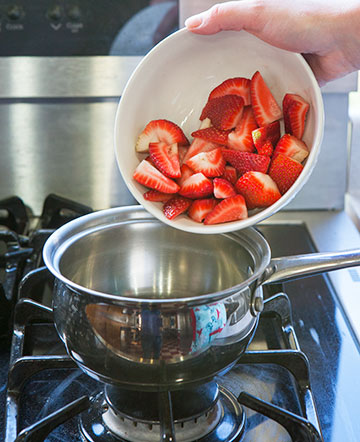 Add 1/2 cup sugar.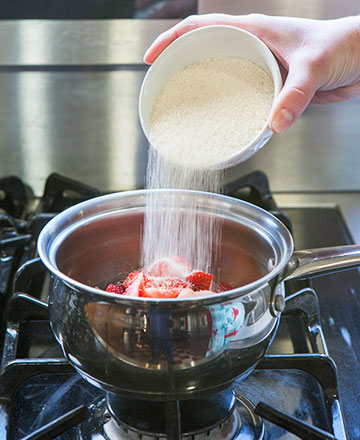 Bring to a boil over medium heat, stirring frequently until sugar is dissolved and berries are soft.
Remove from heat and purée using an immersion blender, or cool slightly and purée in a food processor or blender.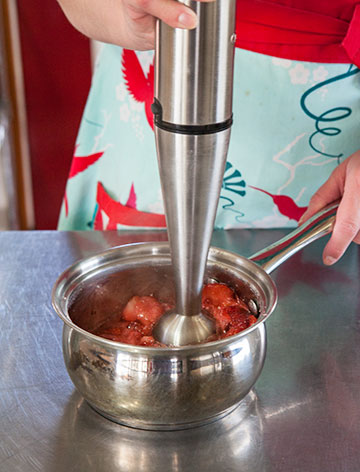 Cool mixture for 15 minutes, then mix in 1/2 cup strained lemon juice (about 3 lemons). Transfer to an airtight container and refrigerate until ready to serve.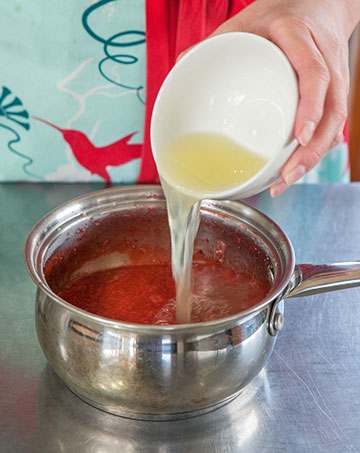 For individual servings, combine 1/4 cup strawberry mixture with 1/2 cup sparkling water. Serve over ice. (To mix up a large batch, combine all of the strawberry mixture with sparkling water and serve over ice.)