Landesa, a Seattle nonprofit that partners with governments to provide land rights for the poor around the globe, believes that teaching girls to farm can transform their futures.
In West Bengal, India—one of the poorest parts of the world—Landesa's "The Girls Project" has already reached more than 48,000 girls. In 2010, Landesa launched its Security for Girls Through Land Project (The Girls Project), helping to save girls from extreme poverty, malnutrition, gender-based violence, lack of education, trafficking, and child marriage. UNICEF reports that one of every five girls in West Bengal is married off by age 15, and half of all rural girls are pregnant by age 19. And India's National Crime Records Bureau reports that two out of every five girls bought or sold into slavery in India are from West Bengal. Teaching girls to farm increases their value to their families and their communities, saving them from these fates.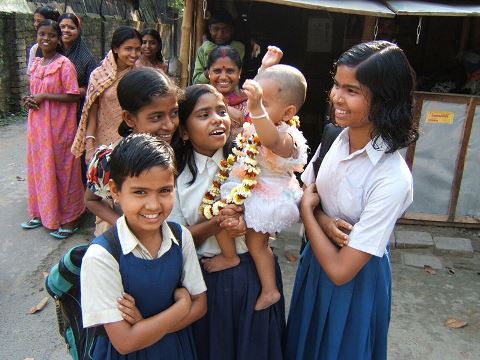 Landesa works with West Bengal's Department of Women and Child Development and a new, government-funded program, the Rajiv Gandhi Scheme for Empowerment of Adolescent Girls (SABLA), to provide adolescent girls with life and vocational skills and improve their health and nutritional status. According to Landesa.org, "Hands-on activities focus on teaching the girls to cultivate small 'kitchen gardens' with nutritious produce that they can add to their family's food supply or sell for income. Many girls use their gardens to earn money for the first time, and their families are beginning to see them as assets rather than burdens."
Landesa also teaches girls (and their families) about their rights to inherit property along with their brothers. The Girls Project also educates boys. Meetings with village leaders, parents, and other community members work to sensitize boys and communities to girls' vulnerabilities and rights. "The social and economic improvements for girls will only be sustainable when community perceptions of girls are changed," says Landesa.
Watch Academy Award-winning filmmaker Megan Mylan's short documentary film about the project, "After My Garden Grows":