It's the time of year when no one wants to think about coming up with extra cash, so the last thing you want to acknowledge is a library fine. Am I right?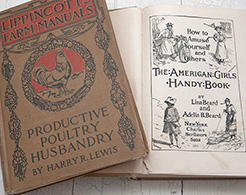 Generally, we're not talking about a significant amount of cash, but even if you owe only a few bucks on a belated book, it's still not money you're eager to part with, especially with the holidays on the horizon. And then there's the guilt factor that gets tangled up in late fees, making them seem a little harder to swallow. Fessing up is rarely easy, no matter how minor the fudge.
But this holiday season, you may be able to clear your conscience—and your tab—by chipping in for charity. Libraries across the country are instituting "Food for Fines" programs in which patrons can pay their overdue book fees with non-perishable food donations for local food banks and shelters.
Throughout the month of November, the Uintah County Library in Vernal, Utah is offering their 10th annual Food for Fines drive. It's an opportunity for people who have racked up late fees to knock a dollar off their fines for each can of food they donate.
"Last year, we had between $3,000 and $5,000 worth of fines taken off our books," director Sam Passey told the Vernal Express. "It's a good way to help the community while clearing our books and getting people's fines cleared."
A few patrons have even been known to create late charges on purpose so that they have an excuse to participate at the end of the year!
In St. Louis last year, participants donated more than 15,000 items. The library was not only thrilled to reclaim long-lost books, but to welcome delinquent patrons back into the fold.
Food items commonly accepted by libraries participating in a Food for Fines program include canned goods and dry items like rice, pasta, and baking mixes (no perishable items or glass containers).