Oh, my goodness. Looky, looky what I got in the mail today. The package delivered by Mr. Right (husband) said on it: "Farmgirl Mail."
Note inside said:
Hi MaryJane,
I hope this note finds you and your family well and happy.
(It did. We are.)
Last week, I was treasuring with a friend and look what I found. A MaryJane Farmgirl/Cowgirl barb-wire treasure with long braid even. It is the perfect you!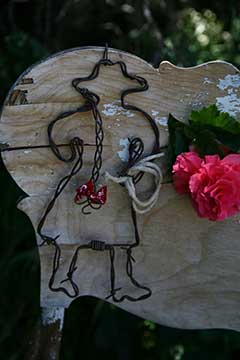 (I agree. Rigid. Thorny on occasion. Definitely rustique.)
I hope you enjoy your little gift. You, your family, and the Farmgirl Chatroom have brought so much to my life & I thank you.
Farmgirl hugs,
Debbie Fisher, Sister #1582/Blessed in Colorado
(YOU bring so much to MY life! I am …
yours always,
bles-sed in I-da-ho,
have a grateful day, MJ)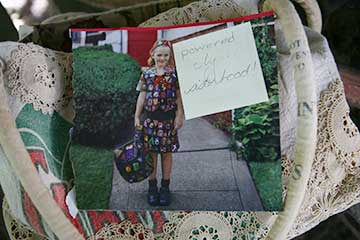 Girl Scout ad I tore out of a magazine, found stashed in side pocket of purse. Ca-ute, right?