Once in a blue moon, there's a children's book so delightful
that you simply must get your mitts on it …
(even if you don't have children, or grandchildren, or students, or even neighbor kids)
… it's THAT good.
Funny I should say that, because, look, here's one now!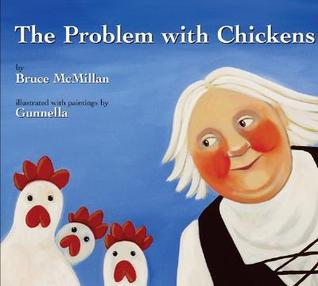 The Problem with Chickens, written by Bruce McMillan and illustrated by Gunnella, published back in 2005, is fare for farmgirls of any age.
"The ladies of Iceland have a problem: the birds lay their eggs in nooks on the sides of steep cliffs, so the ladies have a very difficult time getting any of the eggs for baking. They go to town to buy chickens to lay eggs for them instead," summarizes Nancy Polette in The Picture Book Almanac: Picture Books and Activities to Celebrate 365 Familiar and Unusual Holidays. "For a while, everyone is happy: there are plenty of eggs to bake plenty of yummy things. But the ladies' problems are far from solved, for the more time the chickens spend with the ladies, the more they begin to act like them too, until eventually they stop laying eggs all together. Now this is a problem indeed, but you can be sure, the clever ladies will find a solution."
I was smitten by the story from the start, but the oil-on-canvas illustrations sent me right over the (blue) moon.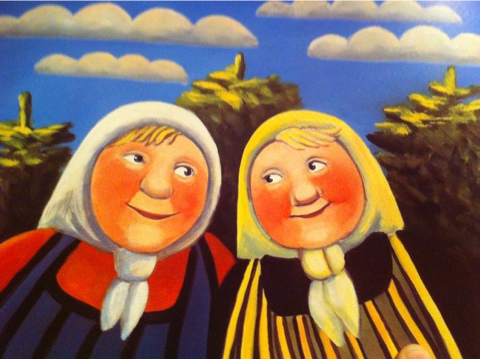 Icelandic artist Gunnella is gorgeously gifted. I'm drawn to the way her simple, folkloric style captures the essence of her subjects—hearty hens in both feathers and aprons—as well as the landscapes of her homeland.
"Old photos, especially photos that show the daily lives of people at the beginning of the last century, fascinate me," she says. "The saga of the Icelandic people is quite amazing. It was so very difficult to survive here on this rocky Iceland in the north."
If you're as charmed as I am by this book, be sure to check out the other book that Gunnella illustrated for Bruce McMillan, How the Ladies Stopped the Wind.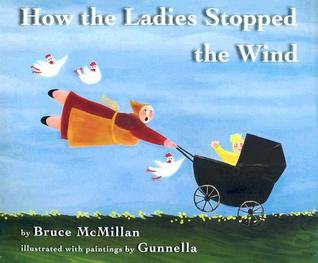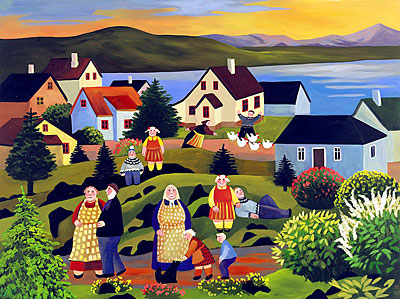 Gunnella's  website is a veritable garden of artwork, not to be missed (she even has an entire page devoted to art inspired by her garden).
"Today, I'm painting pictures from the photo-album of my mind, pictures that I have collected from my memories of people, especially of my grandmother, who lived in the north of the country. She lived in a town called Siglufjörður. I paint her and her house and the surroundings," Gunnella explains. "I've been told that my paintings show that women can do whatever they want. I like that."
Njóta!