kummerspeck …
Well, okay, it's not English, but that's not our fault. Turns out, there is no equivalent English word for this German beauty.
What does it mean?
Well, what if I told you, in a dramatic and emotional voice, full of woe and misery, that my muffin-top was the result of kummerspeck? Or that my love-handles only arrived after a tragic misunderstanding of mashed potato proportions?
That's right: kummerspeck translates quite literally into …
… grief bacon … ??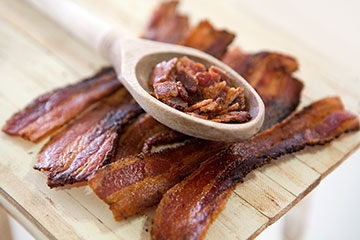 It's when you overeat emotionally. Not just cuz you were jonesin' for some extra fries or another slice of pizza (that, my friend, is regular overeating), but because you were so emotionally fraught with worry and/or anxiety, that that apple pie ala mode pretty much jumped right into your mouth.
Kummerspeck.
Grief bacon.
It's not just for breakfast anymore.