The adorable, always humorous MBA Jane is my way of honoring our Sisterhood Merit Badge program, now with 7,428 dues-paying members who have earned an amazing number of merit badges so far—10,836 total! Take it away, MBA Jane!!! ~MaryJane 
Wondering who I am? I'm Merit Badge Awardee Jane (MBA Jane for short). In my former life …   
For this week's Each Other/Her-Story Expert Level Merit Badge, I kept on researching 'til my researcher was sore.
For those of you who didn't do well in Anatomy and Physiology, your researcher is located beneath your tense neck and your aching back. It's that spot you can't reach when itching. Science, peeps.
I had earned Part I of my Expert Level badge in this particular theme earlier, but I wanted to finish my education: after all, this was the expert level, gals.
I had begun with Laura Ingalls Wilder (who was alive in both the 1800s and the 1900s, but I considered her my 1800s girlfriend), and I was going to finish by reading a biography of another famous go-getting, sharp-shooting farmgirl, this one most definitely from the 1900s:
Dale Evans.
Being quite famous, of course there are numerous biographies—not to mention museums, documentaries, and films—about my illustrious subject, but just like with Laura Ingalls, I decided to go straight to the horse's mouth to catch my flies with honey. In a bush. A mulberry bush.
Note: I have never been great at recalling expressions.
Anyway, her autobiography is titled Happy Trails: Our Life Story.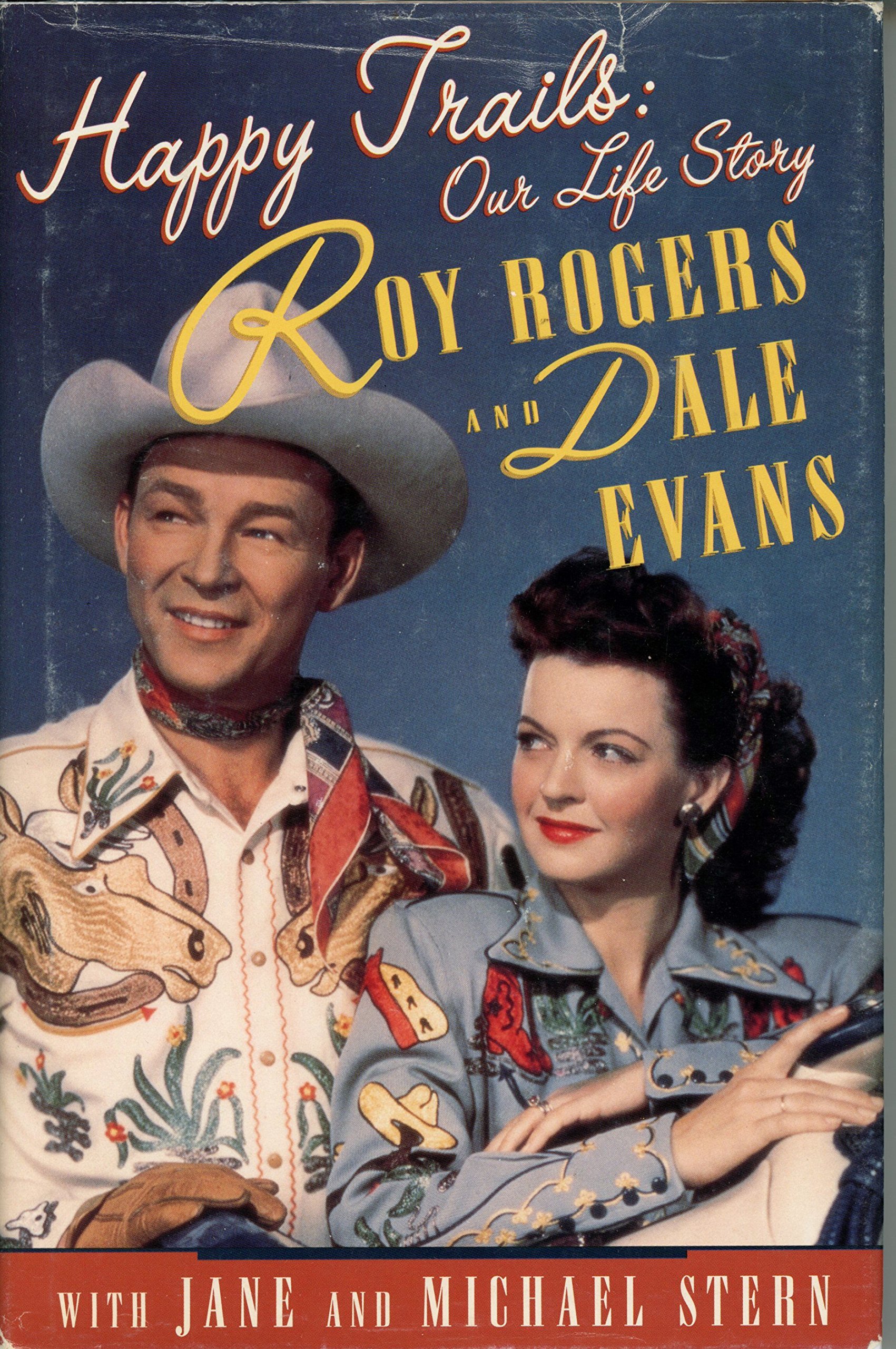 Interesting facts I learned about my good buddy (in my mind), Dale:
Her name wasn't Dale Evans. She was born Lucille Wood Smith, in 1912.
She didn't go by that name, either. For some reason, her parents changed it from Lucille Wood Smith to Frances Octavia Smith. Confused yet?
It wasn't until 1929 that she changed her name once more, this time to Dale Evans. Seriously, girl. Pick. A. Name.
She eloped with her first husband at the age of 14. (!!)
By the age of 15, she had her son, Tommy. (!! again) Tommy was widely regarded, both publically and privately, as her nephew, and not her son, for many years.
By the age of 16, Dale and Tommy had been abandoned by Tommy's father.
Dale married and divorced two more times (neither produced any children).
In 1947, Dale married her fourth husband, Roy Rogers, in Oklahoma. This was Rogers' third marriage. After so many unsuccessful attempts at matrimony, I'm sure their friends were a little skeptical of this union, but Roy Rogers and Dale Evans stayed happily married over 50 years, until 1998, when Roy passed away.
Shortly after their marriage, Dale ended the charade that Tommy was her nephew. Dale and Roy went on to have one little girl, a child with Down Syndrome, who passed away from complications at the age of 2. Dale was a spokesperson for people with disabilities for the rest of her life, and was instrumental in changing the language, thought processes, and treatment of those with disabilities.
She wrote a book about her daughter, called Angel Unaware.
Almost as famous as the woman who rode her was Dale's buckskin mare, Buttermilk.
The stunt double for Dale in their television program, The Roy Rogers Show, was also the stunt woman for Annie Oakley in the show Annie Oakley.
Dale has two stars in the Hollywood Walk of Fame, one for her contribution to radio, and one for her contribution to television.
Dale and Roy adopted four more children.
They partnered with Billy Graham many times and were outspoken about their faith.
Dale was ranked 34th in CMT's 40 Greatest Women of Country Music.
One of her best quotes is, 'Cowgirl' is an attitude, really. A pioneer spirit, a special American brand of courage. The cowgirl faces life head-on, lives by her own lights, and makes no excuses. Cowgirls take stands; they speak up. They defend things they hold dear.
Hats off to you, dear Lucille/Frances/Dale!