The adorable, always humorous MBA Jane is my way of honoring our Sisterhood Merit Badge program, now with 7,466 dues-paying members who have earned an amazing number of merit badges so far—10,836 total! Take it away, MBA Jane!!! ~MaryJane 
Wondering who I am? I'm Merit Badge Awardee Jane (MBA Jane for short). In my former life …   
For this week's Farm Kitchen/All Dried Up Young Cultivator Expert Level Merit Badge, Nora and I went on a mad, crazed, no-holds-barred shopping trip for herbs.
I know, you can't stop us nutty herbivores. We're obsessed with fresh plants!
There were a few still growing in my garden, so of course we took advantage of those as well, but we wanted to expand our culinary palates too, and that required a bit of supermarket and farm stand browsing. After an afternoon of odoriferous gathering, we had a basket of fresh greenery that would make Rapunzel swoon with envy.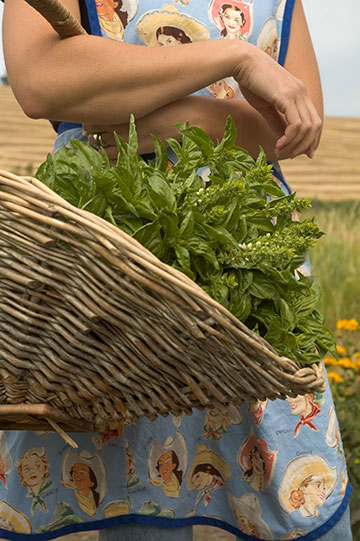 Our bounty:
Mint
Parsley
Cilantro
Rosemary
Chives
Oregano
Basil
Lavender
Thyme
Chamomile
Sage
Lemon balm
Coriander
Chervil
Bay
Dill
Next up, after washing our delicate pretties, we hung some of the herbs up to dry, and thought about what to do with the rest. We came up a couple ideas: compound butters to give as gifts, and frozen oils to keep for cooking.
For the frozen herbs, it's simple. Use ice cube trays and separate your herbs into the cubes. Drizzle with olive oil and freeze. When you need an herb for say, spaghetti sauce or soup, just pop out the one of your choice!
For the compound butters, we mixed our herbs with softened butter. Roll into a log using wax paper and refrigerate. Tie with a pretty ribbon and these make great gifts for a housewarming present (add a loaf of French bread). They are also yummy melted on top of a steak or broiled on a piece of fish or chicken.
Just the thought made our mouths water, so we made ourselves some fresh iced tea with mint leaves and invented our own recipe using Nora's personal favorite herb of choice: dill.
Nora's Dill Pickle Dip
One block of organic cream cheese, OR half a block cream cheese plus 1/2 cup sour cream (could substitute Greek yogurt as well)
Several splashes of dill-pickle juice
1/2 cup chopped dill pickles (homemade if you've got 'em!)
Mix thoroughly and refrigerate to thicken slightly. Serve with crackers and iced tea with mint.
Try it with your dill-pickle fans. It's dill-icious!
Once our herbs had finished drying (you can speed up the process by using a food dehydrator or your oven, but we enjoyed the look of the pantry once we had hung all of our bunches upside down using clothesline), we pinched off the leaves and packaged them in jars. Voila! Fresh herbs for all our friends to last even when the garden has been plundered.