Located in Venice, Italy, the Libreria Acqua Alta library dates back to … well, surprisingly enough, only a decade or so ago. But you'd never know it while strolling through.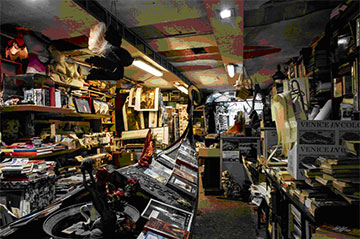 Imagine this: twisty, curvy staircases and furniture made out of sets of encyclopedias. Novels inserted into every nook and cranny you can find. Volumes of poetry lined up in old canoes and gondolas, tanks, even claw-foot bathtubs (which is pretty uncanny if you ask me, because that's where I go to read anyway). Not only is the finished result incredibly beautiful and quirky, it's practical: the bookstore floods every year, so this way, the books have a fighting chance of staying dry.
Under your feet are four, furry, happy cats, because after all, what is a bookstore without a feline of a literary purr-suasion?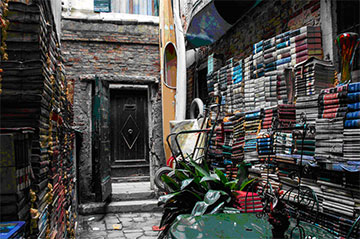 Libreria Acqua Alta translates into The Library of High Water, and the owner's name is (what else?) Luigi. Known to be a gentle, old soul, he can direct you to whatever it is your bookish heart desires; from guidebooks about Venice to new bestsellers to that antique first edition you've been craving. Luigi also must have a pretty good sense of humor: the "fire escape" at the Libreria Acqua Alta is simply a second floor doorway that drops off into the canal. We see what you did there, Luigi.
If your budget allows you to get there someday, you can find the Libreria Acqua Alta in Calle Lunga Santa Maria Formosa, directly across the street canal from the Piazza San Marco.
Don't forget to send us farmgirls a postcard. Or better yet, a vintage, dog-eared copy of something old and lovely that smells of paper and Italy.
(Photos from Venezia.net, "Italy's Number One Travel Site")