Curly hair hasn't been "in" since the 1980s, and those curls were permed to death, teased to high heaven, and sprayed with toxic hairspray to set. After that trend flew the coop, flat-ironed, stick-straight hair was all the rage.
All through the '90s, right on through the first decade of the 2000s, up until just recently, when celebrities like Shakira and Lourde started flaunting their natural ringlets and waves. All of a sudden, women with curly hair weren't just the "before" photos in the makeover articles.
But tossing all those flat-irons and blow dryers is a hard habit to break! What's a girl to do?
Embrace her curls, that's what. Over 50% of American women have curls … say what now? Time to take back what nature gave ya, and tame those tresses.
"Curly Girls" isn't just a catch-phrase, it's a movement. The basics for following the Curly Girl method came from Lorraine Massey (try her book, The Curly Girl Handbook) to read all about it.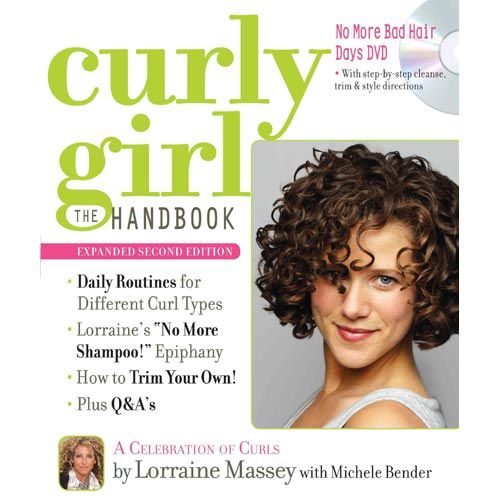 But the rules for gorgeous, shiny, twirly, swirly, curls are pretty simple:
Toss all those toxic hair-care products, and yes, this probably means your shampoo.
Skip shampooing altogether (this is called The No Poo Method … no, it's not a laxative commercial), or switch to a brand with no parabens/sulfates/silicones. Some Curly Girls use a simple mixture of apple cider vinegar and conditioner to cleanse their hair, or a make a DIY sugar scrub for their scalp. But the shampoo brands are catching on: it's getting easier and easier (and less expensive too) to find a shampoo free of all those nasty, pesky chemicals.
Figure out which curl pattern is your distinct pattern. This will help you know which products to try and which tutorials to watch: patterns range from
1 = Straight Hair
2 = Wavy Hair
3 = Curly Hair
A = Curl diameter of sidewalk chalk
B = Curl diameter of a Sharpie
C = Curl diameter of a pencil
4 = Kinky Hair
A = Curl diameter of a needle
B = Zigzag curl pattern
C = No curl pattern
Moisturizing is key for curly hair because curls get dry quickly and they are thirsty. Use a thick, organic conditioner. Look for ingredients like shea butter, coconut oil, argan, aloe vera, proteins, etc.
Get rid of your hairbrush. Curly girls have no need for a hairbrush EVER. Simply comb through your hair to detangle in the shower while your conditioner has been slathered through.
For extra volume, flip your head upside down for the final rinse and comb through.
Now, "Squish to Condish." Squeeze and squish your tendrils up towards your hairline. No need to rinse out all the conditioner either. Remember, you have thirsty hair!
While hair is still very wet, apply your curl product: creams are good for smooth ringlets, gels provide great control especially in humidity, and mousses give you some bounce and volume. Most curly girls experiment and even combine their products. Remember, you're looking for products that do not contain parabens, sulfates, or non-water-soluble silicones.
Your curls will be sopping wet and sticking a bit to your head. That's okay! They're going to come to life during the drying process. For any flat pieces, twirl a section and then scrunch. Some girls do this to their whole head (after a while it doesn't take so long), some just do those stubborn pieces in the front that they know are prone to frizz or straightening out.
Scrunch some of the water out with an old cotton Tshirt. Towels create friction.
Air dry, or use a diffuser on your blow dryer. You know the one: it's the bumpy, round attachment you may not have ever used before.
For sleeping, try "pineappling" your hair: Pile loosely on the very tip-top of your head (think unicorn horn placement). Tie in a loose bun or just in a simple ponytail. This keeps your curls from getting smooshed on your pillow all night long.
Speaking of pillows, switch to a satin pillowcase. It really makes a difference in frizz control!
It may take some practice to find which products work best for your hair, but your tired tresses will thank you for it.
For a list of curl-friendly products, check out Curly Girl's blog. Or search for "curly girls" on Pinterest or YouTube. It's a bunny trail of wavy proportions.
Curly girls of the world, unite!