Strange things to eat have been around since we started stuffing delicacies in our pie-holes (and our cheeseburger-holes and our pasta-holes). And lest you think only the peculiar is plated in exotic locales—that's a whole nuther kettle of fish—we'll just stick to the good ol' U.S. of A.
What was en vogue the decade you were born? And if your mama was eating it in utero with you, maybe that explains some things.
Here are some of the most atypical foods I could find, and if you have an all-time weird food recipe in your collection, I'd love to hear about it in the comments below.
Sauerkraut Chocolate Cake. Recipe here if you dare.
"Weiner-Roni" Casserole with Karo Syrup. Mmmm, can you say health problems on a fork?
Creamed Tuna with Noodles in a Jell-O Mold. My tummy hurts.
Speaking of Jell-O, what was the 1970s obsession with congealing meat products in fruit-flavored gelatin? Chicken, seafood salad, creamed beef … it all went in a package of Jell-O with a dollop of Miracle Whip on the side.
Spam Italiano. In other words, Spam with tomato sauce and cheese. But methinks the Italians look askance at this concoction.
In the '50s, Kraft released a Potato Fudge. Like, fudge sauce for your baked potato. The tagline read, "In the heart of your baked potato, spoon a big swirl of Kraft's Potato Fudge! That chocolatey, gooey goodness your kids crave will melt right in and even the most finicky eater will have a smile! And you'll love the healthy vitamins and minerals!" Don't care for fudge on your baked spud? That's okay, they made a butterscotch version, too.
Fiesta Peach Spam Bake. Um, I'm not convinced that those two should ever mingle in my belly.
Veg-All (remember those cans?) Pie. Again with the Jell-O. I think all the Virginia Slims the ladies were smoking were affecting their taste buds. Oh, and don't forget to garnish this pie slice with … wait for it … tartar sauce. Yep.
Okay, I'm back. How about Ruby Chicken soup? This recipe came about in case you needed to use up a couple cans of cranberries leftover from Thanksgiving. Too bad the finished product looked a chicken being boiled in its own blood. Um, thanks, but we'll pass. Not even for Halloween is that appropriate.
Kraft Squeeze-A-Snack. A squeezable cheese-like product. Kraft, we're onto you.
Pink Buttermilk Congealed Salad. Don't even get me started on how this uses Jell-O: I can't get past the word Congealed used in a recipe title.
Fruit Cocktail Topped Hash. Cuz nothing says hash like … fruit?
Broiled Bologna Cups with Canned Peas. At least this recipe tried to be fancy: evidently if you broil bologna slices, the edges curl up into a nicely shaped bowl. To cradle your canned peas. Ew.
Ketchup Pineapple Upside Down Cake. That's alright, Heinz, we pass.
Shrimp Salmon Mold. Made with … you guessed it: Jell-O. But the clincher was the snazzy way the cook molded it back into a salmon shape. What'd that salmon ever do to you?
Milk Chicken with Banana Buttons. Um. How before-dinner martinis did you need to make this one?
Pimento Puree. Apparently, pimentos were the kale of their time.
Liver Loaf Shaped as a Pineapple. Because it was classy, people!
Lest you think we're only picking on the 1970s, let's take a moment to remember (maybe not so fondly) the 1980s: they brought us Sloppy Joes, Manwiches, Bisquick everything, Shake and Bake, cereals shaped and flavored like donuts/cookies/candy bars (part of your nutritious breakfast!), American cheese slices, Salisbury steak TV dinners, Dr. Pepper chili, pizza rolls, and bagel bites. I can feel my arteries hardening.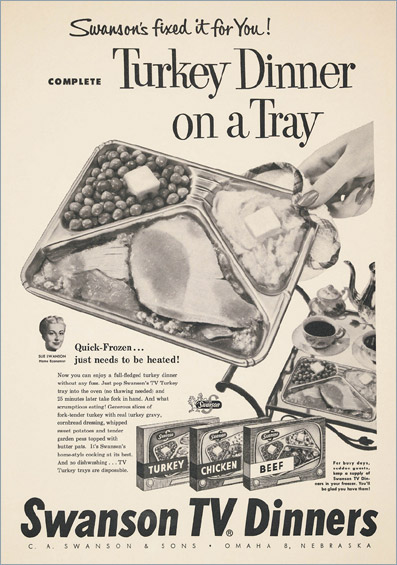 Well, I could keep going with this gastronomic game of Truth or Dare, but I think you might need a Pepto break.