Have a craving for loaded eggs, but short on time? This frittata is a snap to put together, and the best part is that it's baked, so it's as simple as sautéing some onions, whipping up some eggs, and tossing the skillet in the oven. Twenty minutes later, you have a skillet full of oh-so-flavorful eggs to start your morning on the right foot.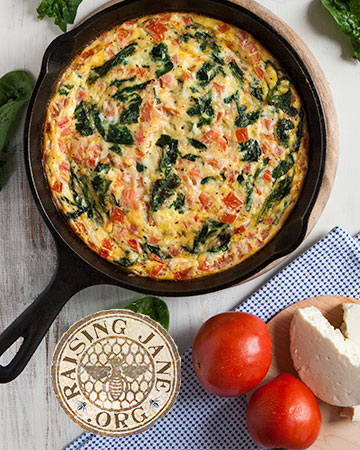 SPINACH, TOMATO & FETA FRITTATA
PREP TIME: 15 MINUTES
COOK TIME: 20–22 MINUTES
MAKES: 6 SERVINGS
8 eggs
1/4 cup milk
1 tomato, diced (about 1/2 cup)
3 ozs feta cheese, crumbled (about 1/3 cup)
1 oz Parmesan cheese, shredded (about 1/4 cup)
1/4 t salt
1/8 t pepper
2 T butter
1/4 cup minced onion
1 garlic clove, peeled and minced (about 1 t)
2 ozs fresh spinach, torn into pieces (about 2 cups)
1. Preheat oven to 400°F and move a rack to center of oven.
2. In a medium bowl, combine eggs and milk; mix until smooth. Stir in tomato, feta, Parmesan, salt, and pepper. Mix well and set aside.
3. In a 9" cast-iron skillet (or a 9" oven-safe skillet), melt butter over medium heat. Add onion and garlic and cook, stirring frequently, until onions are soft (about 5 minutes).
4. Add spinach, and continue to cook, just until spinach has wilted. Remove from heat, brush extra butter up the sides of the skillet to prevent the eggs from sticking, and pour egg mixture into skillet.
5. Gently stir to disperse ingredients, then place skillet in oven and bake, uncovered for 20–22 minutes, or until eggs are set in the middle.
6. Cool frittata for 5 minutes, then slice into wedges and serve.