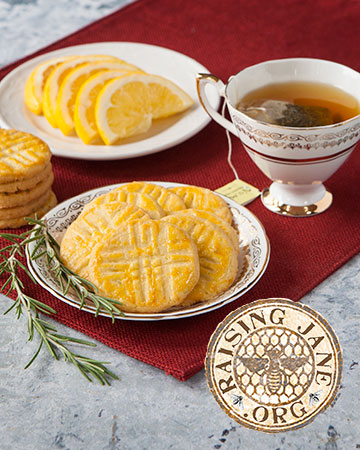 A traditional French shortbread, sablé cookies have a rich, buttery flavor, balanced with just the right amount of sweetness. The egg-yolk glaze on top of the cookies gives them a sheen that looks perfectly polished. Our version includes orange zest and rosemary, which perfectly complement these buttery, sweet cookies.
ORANGE-ROSEMARY FRENCH SABLÉ COOKIES
PREP TIME: 15 MINUTES, PLUS 45 MINUTES COOLING TIME
COOK TIME: 14-16 MINUTES
MAKES: 4 DOZEN COOKIES
1 cup butter, softened
2/3 cup sugar
3 egg yolks, divided
2 t orange zest
1 spring fresh rosemary, stemmed and finely minced (about 1/2 t)
1/2 t vanilla extract
1/4 t salt
2 cups flour
1. Line two large baking sheets with silicone baking mats or parchment paper.
2. In a medium bowl or stand mixer fitted with a flat beater, cream butter and sugar together until light and fluffy. Add 2 egg yolks, orange zest, rosemary, vanilla extract, and salt; mix until creamy.
3. Add flour and mix just until dough forms.
4. Divide dough in half. Roll half of the dough to 1/8" thickness between two pieces of parchment paper. Remove top sheet of parchment paper. Using a 2"-round cookie cutter, cut dough into circles, and transfer to prepared baking sheets. Leaving about 1/2″ of space between each cookie. Repeat process with second half of dough.
5. Once all dough has been cut, make a crosshatch pattern on the top of each cookie with a fork. Chill cookies in refrigerator for 45 minutes.
6. Preheat oven to 350°F.
7. In a small bowl, combine remaining egg yolk and 1 t water. Brush cookies with egg-yolk wash and bake for 14-16 minutes, rotating cookie sheets halfway through, until edges begin to turn golden brown.