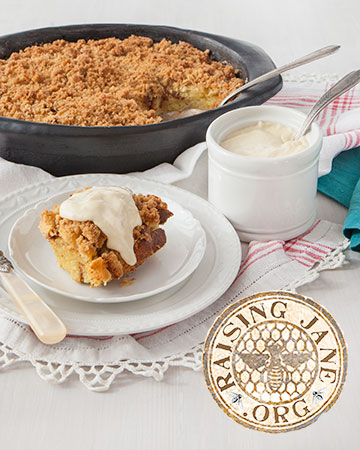 Baked French toast is always a big hit around here, so I decided to put a spin on the dish using one of my favorite holiday treats: eggnog. The eggnog adds a rich, but not-too-sweet flavor to the French toast, and the nutmeg and vanilla are perfectly balanced. The whole thing is topped off with a silky, decadent eggnog sauce. Perfect for the holidays!
BAKED EGGNOG FRENCH TOAST
PREP TIME: 20 MINUTES
COOK TIME: 40–45 MINUTES
MAKES: 6 SERVINGS
Crumb Topping:
1/2 cup flour
1/2 cup brown sugar
4 T butter, melted
French Toast:
6 cups 3/4" stale brioche cubes
6 eggs
1 cup eggnog
1 t vanilla extract
Eggnog Sauce:
1 1/2 cups eggnog
4 t cornstarch
1. Preheat oven to 350°F and generously butter a 2-qt ceramic or glass baking dish (an 8" x 8" baking dish works well).
2. Make crumb topping: In a small bowl, combine flour, brown sugar, and butter; mix well and set aside.
3. Make French toast: Add brioche cubes to prepared baking dish. In a small bowl, combine eggs, eggnog, and vanilla extract. Pour over brioche cubes, and gently push bread cubes down into eggnog mixture.
4. Sprinkle crumb topping over bread cubes and bake, uncovered for 40–45 minutes, until top is golden brown and center is set.
5. While French toast is baking, make eggnog sauce: In a small saucepan, combine eggnog and cornstarch; whisk to combine. Bring mixture to a simmer over medium heat, stirring frequently, until sauce thickens. Keep warm, stirring occasionally until ready to serve.