With this recipe, whipping up a mess of piping-hot pancakes has never been easier. Gone are the days of standing over a stove, tinkering with the burner setting to get the pan temperature just-so. Additionally, this recipe makes enough to feed a crowd in one fell swoop.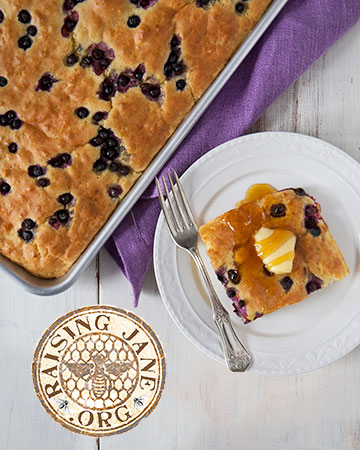 QUICK & EASY BAKED PANCAKE
PREP TIME: 15 MINUTES
COOK TIME: 20 MINUTES
MAKES 10–12 SERVINGS
3 3/4 cups flour
2 T sugar
2 t baking soda
1 t baking powder
1 t salt
3 cups buttermilk
3 eggs
4 T butter, melted
2 t vanilla extract
1/2 cup frozen huckleberries (or any other frozen berry)
1. Preheat oven to 400°F. Line a 13" x 18" baking sheet with a silicone baking mat or parchment paper and butter inside edges of pan.
2. In a large bowl, combine flour, sugar, baking soda, baking powder, and salt.
3. In a medium bowl, combine buttermilk, eggs, butter, and vanilla extract.
4. Add buttermilk mixture to flour mixture and mix just until combined. Pour batter into prepared baking sheet and spread out with a spatula so it covers entire baking sheet.
5. Sprinkle huckleberries over top of pancake and bake for 20 minutes, or until top is golden brown.