Looking for a dish that can be whipped up in jiffy? These meatballs and homemade barbecue sauce are deceptively simple, and offer the perfect balance of savory, sweet, and tangy.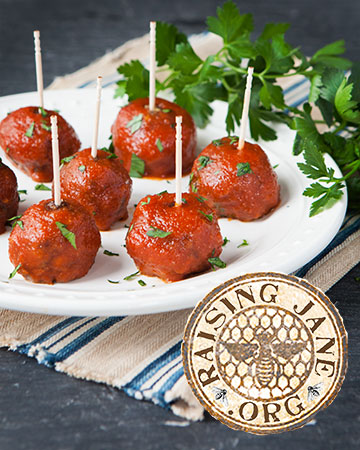 MEATBALLS W/HONEY-PEACH BARBECUE SAUCE
PREP TIME: 30 MINUTES
COOK TIME: 18–20 MINUTES
MAKES: ABOUT 32 MEATBALLS
Meatballs:
1 lb lean ground beef
1/2 onion, peeled and minced (about 1 cup)
1/2 cup breadcrumbs
2 eggs
2 T fresh parsley, minced, plus more for serving
2 garlic cloves, peeled and minced (about 2 t)
3/4 t salt
1/2 t pepper
1/4 t baking soda
1/8 t ground cayenne
Honey-Peach Barbecue Sauce:
1 T butter
1/2 onion, peeled and minced (about 1 cup)
1 15-oz can tomato sauce
1/3 cup honey
2 T dark brown sugar
2 peaches, peeled, pitted, and diced (about 1 cup)
3/4 t salt
1/4 t crushed red pepper
1/8 t ground cayenne
2 T apple cider vinegar
1. Preheat oven to 375°F. Line a large baking sheet with a silicone baking mat or parchment paper.
2. Prepare meatballs: In a medium bowl, combine ground beef, onion, breadcrumbs, eggs, parsley, garlic, salt, pepper, baking soda, and cayenne. Mix well.
3. Working with roughly 1 T meatball mixture at a time, roll into meatballs and arrange on prepared baking sheet, leaving about 1/2" between each meatball.
4. Bake for 18–20 minutes until internal temperature reaches 160°F.
5. While meatballs are cooking, make barbecue sauce: In a medium saucepan over medium heat, melt butter. Add onion and cook, stirring occasionally, until tender (about 7 minutes).
6. Once onion is tender, add tomato sauce, honey, brown sugar, peaches, salt, crushed red pepper, and cayenne. Continue to cook over medium heat, stirring frequently, until mixture begins to simmer.
7. Continue to simmer until peaches are tender, then remove from heat and purée in pan using an immersion blender, or cool slightly and purée in a food processor. Stir in apple cider vinegar and serve with meatballs. If desired, garnish meatballs with fresh parsley just before serving.