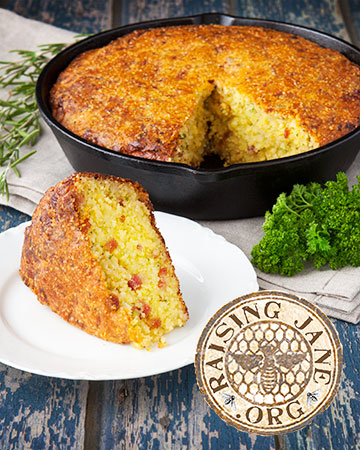 With the frost-covered trees and snowy-blowy wind, it's definitely soup season here. What's better with a bowl of piping-hot chowder or thick, hearty stew than a thick slice of corn bread? A thick slice of corn bread speckled with bits of bacon and Cheddar cheese and seasoned just right with rosemary and parsley, of course!
CHEDDAR, HERB & BACON CORN BREAD
PREP TIME: 15 MINUTES
COOK TIME: 45–50 MINUTES
MAKES: 4 SERVINGS
6 ozs bacon
1 cup flour
1 cup finely ground cornmeal
1/2 t baking powder
1/2 t baking soda
1/2 t salt
1 cup buttermilk
1 egg
2 T honey
4 T butter, melted
6 ozs sharp Cheddar cheese, shredded (about 1 1/2 cups)
2 T fresh parsley, minced
3 sprigs rosemary, stemmed and minced (about 1 1/2 t)
1. Preheat oven to 375°F. Line a large baking sheet with aluminum foil.
2. Arrange bacon slices on prepared baking sheet and bake for 20 minutes, or until crispy. Remove from oven and set aside.
3. Increase oven temperature to 400°F. Generously butter an 8" cast-iron skillet.
4. In a medium bowl, combine flour, cornmeal, baking powder, baking soda, and salt.
5. In another medium bowl, combine buttermilk, egg, and honey. Whisk in melted butter (butter will cool and make the mixture slightly lumpy).
6. Add buttermilk mixture to flour mixture and mix well.
7. Blot excess oil from bacon, dice, and add to corn-bread batter. Add Cheddar cheese, parsley, and rosemary to batter and mix well.
8. Spoon corn-bread batter into prepared skillet, smooth out top, and bake on center oven rack for 15 minutes.
9. After 15 minutes, cover top of corn bread with foil to prevent over-browning and and bake an additional 10–15 minutes, or until a toothpick inserted into the center comes out clean.