Welcome New Sisters! (click for current roster)
Merit Badge Awardees (click for latest awards)
The featured Merit Badge Awardee of the Week is … Darla Armstrong!!!
Darla Armstrong (cowgirlup@21 #4391) has received a certificate of achievement in Outpost for earning an expert level Fishing badge.
"This summer, I caught my first Chinook salmon in a river in Haines Alaska. It was an awesome experience! I hooked three others but I never reeled them in. (This is the photo, I am with my son ).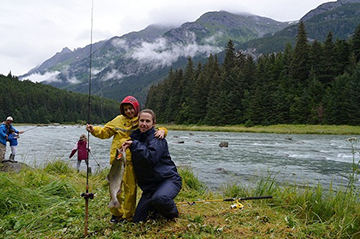 We did not eat this fish but the night before I did and it was unreal! It totally spoiled me for fresh salmon! There is nothing like it!!"
Want to learn more about MaryJane's Farmgirl Sisterhood? Click here.