This winter, try an eco-friendly snow thrower called the Sno Wovel. Recognized by Co-op America and National Green Pages for its positive, pollution-free environmental standards, it was also chosen Time Magazine's "best invention." The wheeled snow shovel design clears away snow three times faster than shoveling, and greatly reduces the physical strain of shoveling and the related risks of back and heart injuries. No fuel, fumes, or deafening noise to harm the environment or the operator.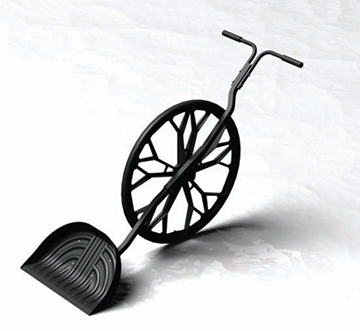 If you know how to use a seesaw, then you can Wovel. The Wovel works on the principle of leverage. "Give me but one firm spot in which to stand," Archimedes declared 2,200 years ago," and I will move the earth." The Wovel gives you the power of leverage to safely move more snow in less time with greater ease then ever before.
Watch a variety of videos of the Sno Wovel in action here.