Welcome New Sisters! (click for current roster)
Merit Badge Awardees (click for latest awards)
My featured Merit Badge Awardee of the Week is … Jennifer Prior!!!
Jennifer Prior (#5297) has received a certificate of achievement in Stitching & Crafting for earning an Intermediate Level Knitting Merit Badge!
"Okay, so I have already become an addict. My friend taught me how to make clog slippers that are felted. At one point, I was knitting with three needles at one time! The slippers were huge when finished, but after felting, they fit like a dream. I actually met with a few friends to work on these. We knit together on three different nights for several hours.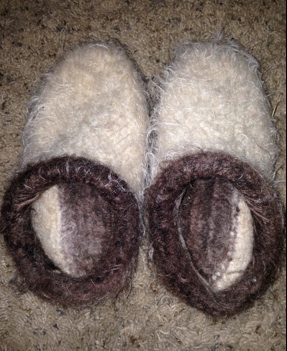 This project was such fun, I made another pair in a different color. Now my mom wants me to make a pair for her. I've attached photos. They are so cute; they look like little teddy-bear feet. I am so crazy about knitting now and have since made numerous dishcloths in varying patterns. Wow, knitted dishcloths work so much better than sponges and I even use one for washing my face now."