Welcome New Sisters! (click for current roster)
Merit Badge Awardees (click for latest awards)
My featured Merit Badge Awardee of the Week is … Patti White!!!
Patti White (#4415) has received a certificate of achievement in Stitching & Crafting for earning a Beginner Level Dyeing for Color Merit Badge!
"While visiting Shaker Village of Pleasant in Kentucky a year ago, I was fascinated with the weaving and dyeing that was perfected by the Shaker women. They not only used dyes from plants and insects, they also harvested and spun wool from their livestock and kept a worm farm for the purpose of making silk. In their gift shop, I purchased a book called Natural Dyes and Home Dyeing by R. Adrosko to mark my enthusiasm for trying to dye fabrics when I returned home. An excellent historical account of dyeing fabric, the book also had simple-to-follow, tried-and-true recipes. I was committed to using only plants that were growing on our property and to get a variety of colors.
I set an electric hot plate on my planting table in the garage, found an old 2-gallon pot with a lid, and set out to plan my 'color wheel'! My fabric was 100% cotton muslin, torn into varying sizes.
Here are the recipes I used and the results:
Fabric prep mordant for berry dyes:
Prepared fabric by boiling in 8 cups water and 1/2 cup salt for 1 hour.
Thoroughly rinsed, but kept fabric wet.
Mulberry Dye: 2 cups berries – 4 cups water
Boiled and mashed. Strained through cheesecloth. Put strained dye back in pot and added 2 cups water. Added fabric to dye and boiled for 1 hour. Rinsed off in tub with garden hose and hung to dry.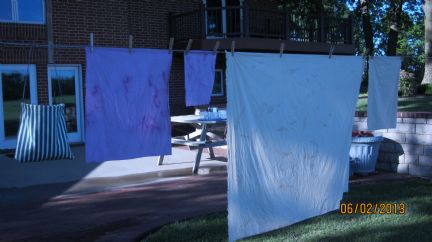 Fabric prep mordant for plant dyes:
Prepared fabrics by boiling in 8 cups water and 2 cups vinegar for 1 hour. Thoroughly rinsed, but kept fabric wet.
I followed the same recipe and proportions used in the Mulberry Dye, but used these plant materials: spinach, yellow yarrow, walnut sawdust, pink rose petals, and coffee grounds from my kitchen.
I wore gloves while working with dyes and put the strained mash from each batch in my compost pile. I love the muted shades of my dyed fabrics and hope to someday make a mini quilt using just these fabrics. I presented the idea to my 4H quilting girls as an idea for a project for next year's county fair. We'll see!!"