While those of us up north bid summer a fond farewell with a tear or two (goodbye, swimming; goodbye, picnics; goodbye, sleeveless dresses and summer sandals), we'll have to try to switch our focus to the fun of fall … autumn leaves, snuggly sweaters, Halloween, pumpkin pie.
Or how about a pumpkin cow??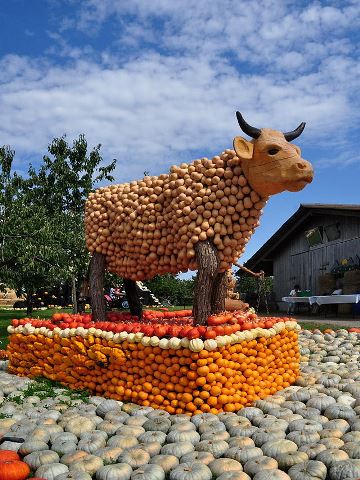 But, first off, why do we have two names for this season? Is it autumn or is it fall? As far as I know, there's only one way to have spring fever or celebrate summer solstice.
Did you know that fall (or autumn, if you prefer) and spring are relatively new seasons? In ancient times, there was only one season: winter. People referred to the passing of the year as so many winters (think Beowulf, the oldest surviving epic poem in the English language, where Beowulf rescues a kingdom terrorized by a monster for "12 winters"). Over time, the year became two seasons: winter and "sumer," an ancient Germanic term for "half" (denoting half the year).
It's interesting to note that the more poetic Chinese also had only two seasons, but theirs were spring (regeneration) and autumn (adversity).
By the 12th century, Middle English had added "lenten" for springtime and "haerfest" (harvest) for fall. Two centuries later, "lenten" had become "spring" and "haerfest" was replaced by "autumn," a Latin term meaning the season of abundance. "Fall" came into use much later, in the 17th century, as a poetic complement to "spring." (It looks like poetry really does have more historical significance than you might think.) But, did you know that "fall" is primarily used only by Americans? The Brits have always tended to look down their noses at the term (think Downton Abbey's Mr. Carson imperiously observing a tipsy dinner guest), preferring the more proper term, "autumn."
Now that we know we can call it "fall" unless Great-aunt Beatrice has come to visit from Derbyshire, let's think of all the fun we can have during this bountiful, beautiful season …
Leaves. Take a rambling, fall drive to experience the beauty of the season. Back home, rake them up and jump in them! Find a one-week, 700-mile fall foliage tour at DiscoverNewEngland.org.
Pumpkins. Horse-drawn wagons meander through acres of pumpkins at Vermont Farms. Visit them or find a pumpkin patch in your area. Take 'em home, bake 'em up, carve 'em, decorate with them! (Did you know the smell of pumpkin pie is a natural aphrodisiac??)
Aurora Borealis. Fall is the official season to see the spectacular "northern lights." Visit "A Guide for Watching Earth's Auroras" to see if you can get a glimpse of these unbelievable beauties.
Apple Cider. Did you know it takes about 36 apples to make a gallon of cider? If you're feeling frisky, ferment that a little and you get a heady concoction known as "hard cider." (Here's one you won't find in the history books: President John Adams drank a glass of cider every morning (the hard kind) as a "health tonic." And it might have worked—even with the stress of being the very first Vice-President for two terms and our second President for one term, Adams lived until 90, in an age when the average lifespan was around 40.)
So take a drive, pick some pumpkins, and look up in the night sky while drinking a large glass of old John Adams' cider—you might just chase away those goodbye-to-summer blues.