Welcome New Sisters! (click for current roster)
Merit Badge Awardees (click for latest awards)
My featured Merit Badge Awardee of the Week is … Erin McBride!!!
Erin McBride (#3762) has received a certificate of achievement in Garden Gate for earning a Beginner & Intermediate Level Herbs Merit Badge!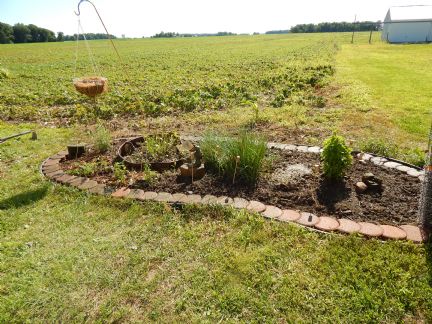 "My herb garden this year had sage, rosemary, mint, basil, Greek basil, purple basil, oregano, cilantro, marjoram, chives, and mustard. The sage did not grow very well, so I didn't end up harvesting it, but it did grow a little. Rosemary, I use for many recipes, such as crockpot rosemary apple chicken, minestrone, and rosemary bread. Mint is used to garnish, and I have plans to make a shrub with it. Basil, I use on pizza; roasted tomatoes, for freezer sauce and any recipe that calls for it. Greek basil, I made pesto out of, and I currently have some drying in my kitchen. Purple basil is drying in the kitchen, also. Oregano is used for roasted tomatoes (freezer sauce) and any recipe calling for it. Cilantro, I use for guacamole and a few crockpot recipes. Marjoram, I will dry for pizza sauce. Chives are used for buffalo turkey burgers, scrambled eggs, and my kids love to just grab a bit and chew on it. The mustard, I'm really not sure what to do with. I planted it because I had the seeds, but the only thing I've read about it is that it's good ground cover and natural mulch for other plants. So I might try that.
I've loved my herb garden this summer. It's right next to our side door, so I see it every time I walk out of the house. It always makes me happy. I love the fact that I'm drying my own herbs. I love that, for a little while longer at least, I can just walk out my back door and snip some rosemary, chives, or basil. Most of what I need is right there. I have all the usual suspects herb-wise for my recipes, and that's so convenient and wonderful."