Welcome New Sisters! (click for current roster)
Merit Badge Awardees (click for latest awards)
My featured Merit Badge Awardee of the Week is … Katie Wright!!!
Katie Wright (#5600) has received a certificate of achievement in Cleaning Up for earning a Beginner, Intermediate, and Expert Level Shopping Green Merit Badge!
For my Beginner badge:
"I have used reusable bags for years and enjoy them. I also use two wonderful baskets, one long, with a low handle, and sturdy (pretty blues), and the other made by local Amish people with a wooden bottom and leather straps. When I walk into County Market, they see me coming and some of the younger ones call me the "basket lady," not bag lady, even if I have bags also.
I have some purchased bags for shopping, one even from Africa, but I enjoy the ones I have sewn and also crocheted and lined. I keep them stacked in my baskets in the trunk of my car. Even my husband has begun using them and says that he just doesn't like those "plastic" bags anymore. I even take my baskets into auctions with me. So, yes, I have at least six bags and the two baskets I use faithfully.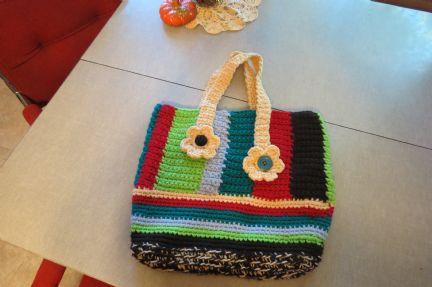 For my Intermediate badge:
I make a mixture of Dawn dish soap and vinegar, which I use to clean counters, bathrooms, and cutting boards. I don't like the smell of many purchased products, plus they are expensive.
It benefits me to use this product instead of purchased products, not just because it is less expensive, but the smell does not affect me like some purchased products. I found some years ago when my asthma got worse that much of the problem was smells from the toxic ingredients in cleaning products as well as health and beauty products. At that time, I started to go green with things and am happy that my asthma is better due to it.
For my Expert badge:
I do not belong to a local farmgirl group, as I have yet to find one in my rural northeast Missouri area. I do, however, glamp and have rural country women who enjoy my love of camping, but who are not yet convinced to join the Sisterhood. With that said, I earned this badge by using reusable bags, making reusable bags, and sharing them with friends, plus giving them out to local shoppers randomly in grocery carts with a note to use reusable instead of plastic.
I was able to receive the joy of giving and also the joy of watching people pick up a cart and take up the bag, read the note with it, and smile. I also saw some customers talking with each other about their free bags and then later at the cashier, telling them about the free bag and that they planned to use it again and again.
My thought is that I having used reusable bags for a long time, even having my husband be a believer in them, and am stunned at how many people still use the plastic bags given at the stores. I am always sad to see so many bags go out in carts, each bag only having a few items in each. What a waste of our resources. I continue to preach and teach by example the using of reusable. I have my daughter-in-love now using reusable bags, and she has also become a recycle person (I believe my grandson helped with those ideas, as he has helped this grandma take recycling into town)."