The adorable, always humorous MBA Jane is my way of honoring our Sisterhood Merit Badge program, now with 6,346 dues-paying members who have earned an amazing number of merit badges so far—9,010 total! Take it away, MBA Jane!!! MJ 
Wondering who I am? I'm Merit Badge Awardee Jane (MBA Jane for short). In my former life …   
For this week's Stitching and Crafting/Sew Wonderful Beginner Level Merit Badge, I took advantage of the fact that I had been a human pincushion one too many times this month.
Eh?
I know, you're not following. Perhaps that's because you've never spilled an entire collection of straight pins into your entire collection of fabric?
Well, count yourselves lucky, my chickadees, because, well, darn it, I don't recommend it. Ouch. There's another one.
Sucking on my poor, Swiss-cheese fingers, and determining never to attempt acupuncture—at least not without a professional—I made up my mind to do something about this awful situation, and why not earn a badge? Seemed sensible. Yowch.
Time out to find the homemade first-aid kit …
All right, I'm back and more determined than ever. (And wearing thimbles on all 10 extremities).
I sorted through my bolts and squares and stacks of calico, gingham, toile, corduroy, denim, satin, flannel, and the like. In order to earn my Beginner Level Badge, I needed to make a sewing kit, complete with pinkeeper, to give to a friend.
You know what they say: Be your own best friend.
What? No one says that? That isn't a quote? And I was going to embroider it on a pillow.
Well, fine, I'll simply make two, because I have the puncture wounds to prove I need a little organization as well. Ow.
I decided there was no need to shop to earn this badge. Not with all the lovely things I have lying about my home. Upcycling is the name of game with this farmgirl these days. Why, I hardly remember what the siren call of the mall sounds like, now that I've turned over a new (organic) leaf. (Okay, okay, I do occasionally answer the siren call of the Pretzel Palace, which is inside the mall, but hey … I'm only human).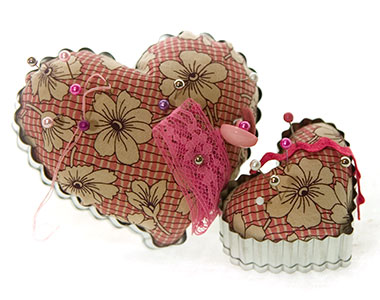 I found two sweet baskets left over from my basketry-making season, and they were a perfect fit for the following:
A few adorable fabric squares (perfect for quilting)
Several different shades of threads, both for machines and for hand embroidery
Straight pins (since evidently I own approximately eleventy-seven thousand)
Safety pins (oh, how I love them … and am considering switching to them for all my pinning needs)
A handful of buttons
A fabric pen
A small embroidery hoop
Scissors
To top it all off, I put together two rather charming pincushions. One is the old-fashioned, stuffed-strawberry type. You know the one: made of red felt and stuffed plump, it's extra endearing with the white-tipped pins. The other, I got fancier with: it's a blue satin dolphin. Well, it was supposed to be a blue satin dolphin, but it turned out more like a cheerful and overfed flounder. Either way, it's cute. Until I started poking him with pins, and then I felt terrible. Like a flounder killer. I should have stayed with strawberries.