If you're a farmgirl at heart who's planted in the city, you've probably dreamed about owning your own farm. Well, look what we discovered on our Farmgirl Connection chatroom from Barbara in Ithaca, NY (GreenSleeves2015):
—————-
My parents have both passed away and it is time to sell their small farm (14+ acres) and Victorian home. It is located in Laurens, NY. It sits in a lovely rural spot, yet close to many conveniences. We hope there is someone out there looking for just such a terrific property, and I'd like to tell you a little about it. This farm is an excellent and exciting choice for a homestead, craft brewery, organic produce farm, or other home-based business. The house has 3 bedrooms, 2 baths, an extra kitchen with floor-to-ceiling built-in cabinets, an amazing amount of storage for an old (1880) home (6 lighted, walk-in closets), and gorgeous woodwork throughout. There is a 2 1/2-story barn, chicken house and detached garage. There are 70 blueberry bushes, fenced with netting, that yield about 200 quarts a year. The land and buildings have been well maintained. There is a stream on the property.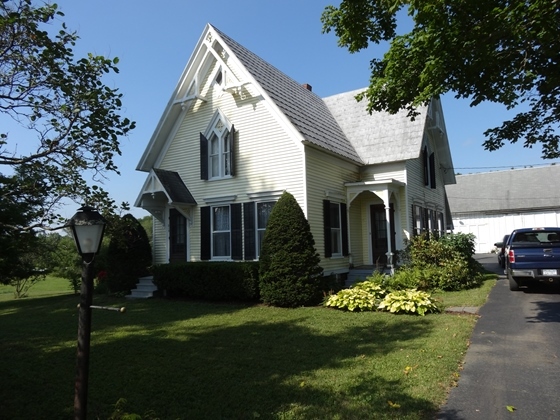 Interestingly, wild hops grow abundantly on the property—AND—there is a great need in NYS for more hops growers. There is a large new brewery going in Oneonta, and a hops processing plant is in the works. This could be a great opportunity for the right person or family. We've been told that a 5-acre, fully mature planting of hops could yield a $50,000 income per year. There is room for this, as well as much more on this excellent property. This link will take you to more information. We are not listed with a realtor, but are hoping to find the right family on our own.
If you'd like to make an appointment to see it, or just to ask more questions, please call Margaret at 607-432-8063.
—————-
Just for fun, we thought you might like to see what farmgirls are saying on our chatroom about Barbara's farm:
Nini, Pennsylvania (Ninibini) says:
Oh, BARBARA! First, let me say how sorry I am for your loss. So hard. And letting go of a family treasure such as their home and farm must be very, very difficult. Having said that, though, I think I've just seen my dream farm!!! What I wouldn't give to be able to relocate and start a new life there… We were upstate New York last fall and I fell in love, absolute love. But I think I could live a little further south and be quite happy. If only… If only… Thank you for telling us about your parents' beautiful home and farm. I pray that the perfect family will move in and be able to honor their hopes, dreams, and hard work… and the love they built there! God bless – I wish you the best! Hugs – Nini
—————-
Laura, St Augustine, FL (RabbitGirl) says:
Hi Barbara – I am so sorry for the loss of your parents. I can only imagine how difficult it must be to have to sell their home.
I actually know where Laurens is. I graduated SUNY Oneonta a long time ago, but I imagine and hope it hasn't changed all that much, so I wanted to offer a testimonial that Otsego County is absolutely gorgeous and rural and the kind of place any true Farmgirl would love. Your parents' home is beautiful. If my life circumstances were different, I'd want it for myself.
Best wishes to you in finding the right family that will love and preserve your parents' farm.
Laura