If you're a cat person, then you know that friendly felines are prone to kneading with their paws.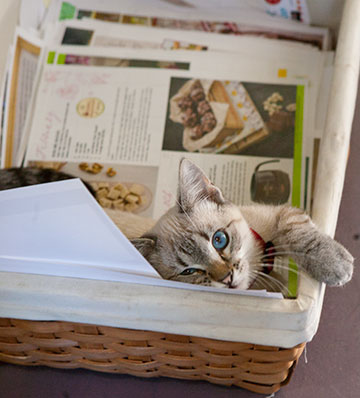 Purrrrr …
And you may also recognize this pastry-esque posture, which has recently been coined "catloaf" (one word) by Internet cat chatters due to its uncanny resemblance to baked bread:
Awwwww (human version of the purr) …
Delightfully, there's a creative baker in Yorkshire, England, known as Lou Lou P, who decided to put her own knack for kneading to work (on dough, of course, not blankets or bellies) in purrsuit of a purrfect catloaf, as edible as it is adorable.
"I'm cat mad. I have five moggies of my own, all rescue kitties," Lou Lou P told ABC News. "I love the 'catloaf' expression, so one evening I just had to see if I could bake it for real. Thus, catloaf was born, simple as that."
The result is so darned darling that one would hardly know whether to snuggle it or butter it.
Not that Lou Lou is new to the craft of baking up cuteness. The virtual shelves of her Lou Lou P's Delights Facebook page are filled with too-sweet-to-swallow treats,
from gussied-up Guinea Pig Rolls:
to delightful Hippo Dumplings wallowing in a glorious stew:
Now, in case you're desperate to make catloaves of your own (and I know you are), you'll be pleased as pie to know that Lou Lou has lovingly shared instructions in a step-by-step guide via Good Morning America.
I do hope you'll share pictures of your lovely loaf litters on the Farmgirl Connection (free to a good home?) … wishful thinking!