The adorable, always humorous MBA Jane is my way of honoring our Sisterhood Merit Badge program, now with 6,760 dues-paying members who have earned an amazing number of merit badges so far—9,508 total! Take it away, MBA Jane!!! MJ 
Wondering who I am? I'm Merit Badge Awardee Jane (MBA Jane for short). In my former life …   
For this week's Stitching and Crafting/Quilting Intermediate Level Merit Badge, I hadn't planned on spending my week on a sewing project, but my sewing machine had other ideas.
You see, I normally like to get down with my crafty self during the chilly winter months, my socked feet resting by the fire, as I sip hot tea and watch the sun set at like, 3 p.m. Summertime, I normally reserve for glamping and fishing and hiking and identifying trees, and other such warm-weather activities.
But at times, my sewing machine reminds me who is boss (hint: it ain't me). And basically, the cute little Singer can smell fear.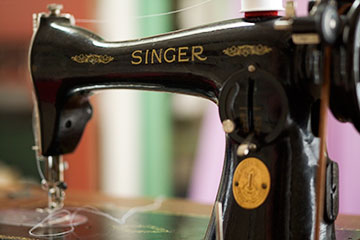 So, if I plan a big sewing project, the needle will bust, the thread will fray, the scissors will disappear, the price of fabric will go up, the gears will grind to a halt … well, you get the picture.
Hence, why I'm quilting in summer. The machine was stitching beautifully when I got it out to hem a quick skirt, and all was right with the world, so I bailed on my outdoor plans and here I sit.
Piecing and quilting (and sweating in my fuzzy socks. Really regretting the fire. Didn't think that through appropriately).
For my Intermediate Level merit badge, I had to "pick up the pace and try a harder project than my Beginning Level project, and try a new pattern that taxes my sewing ability and makes me reach new heights."
Whew! I'm nervous just thinking about it.
Today, Celestial Star, tomorrow the world …
Actually, forget Celestial Star. That looks hard. Let's try Spiral Geese. Hm. Also difficult.
I wasn't reaching new heights as much as I was stressing myself out. Okay, we're going with ZigZag Love. I can do this! ZigZag is my middle name.
In order to earn my badge though, I needed a 20-hour time commitment (Pshaw. No worries there. At the rate I'm going, it'll take me 20 years to complete this thing.) and a friend to sew with me.
I asked Midge, but she was skeptical of my roaring, cozy fire and said her fuzzy socks were in the wash. (Who's skeptical now? Me, that's who.) So I dialed up my pal, Judy.
Wait. Does anyone actually dial the phone anymore? Isn't that kind of like "rolling up the window?" I didn't technically dial then, I texted.
R U up 4 a needle luvin good time?
Who is this? I don't do drugs.
Hahaha, lol! It's me, Jane "ZigZag," the Quilt Master.
Ah. Lemme guess: you're sitting in front of a fire, watching Christmas flicks in summer, huh?
Yup. Get over here.
I'll bring the eggnog.
It's good to have friends who gets ya. Judy and I spent all weekend sewing and crafting to our little heart's content. At the end of my 20 hours, I had a complete ZigZag Love quilt top and was considering changing my street name to Celestial Star Janey.