The adorable, always humorous MBA Jane is my way of honoring our Sisterhood Merit Badge program, now with 6,760 dues-paying members who have earned an amazing number of merit badges so far—9,508 total! Take it away, MBA Jane!!! ~MaryJane 
Wondering who I am? I'm Merit Badge Awardee Jane (MBA Jane for short). In my former life …   
For this week's Young Cultivator Stitching and Crafting/All Tied Up Beginner Level Merit Badge, I spent some time with Nora, my ever-lovin' and ever-talkative neighbor girl. She's the artistic type (I can tell this by the mood swings and the way she dresses … very eccentric), so I knew she'd be perfectly swell for this particular badge.
For Nora to earn her Beginner Level badge, all we had to do was whip up a smock.
"No, not a snack," I patiently replied to Nora, who sighed dramatically. "A smock. Smock? You know, like an artist's apron?"
Empty eyes stared back at me. Goodness, this child.
She said she'd probably think better if she had a slice of cake. That seemed logical, I had to admit.
After our cake break, we got down to business. First, we made a list of all the different ways we could fashion our own DIY smock and then we narrowed it down to what we actually had on hand, because if we put off actually making our smock any longer it would be dinner time.
Jane and Nora's Smock-ipedia
Adult sized T-shirt. To size it more kid-like: open up the seams at the side, cut strips and tie, or slit open the back, gather and tie.
Use oilcloth for a waterproof, wipe-able smock. To upcycle this idea without purchasing new oilcloth, just use an old vinyl tablecloth.
Men's button-up shirts make great smocks: keep the collars and buttons, but cut off the sleeves and the whole back (use the sleeve material to make the apron ties).
Terry-cloth towels and ribbons: use the ribbons as a tie for around the neck and another for tying around the waist. Use hand towels for toddlers, and bath towels for larger kiddos (or messy adults).
Denim smocks: use an old pair of jeans. Cut off the legs and just use the tushy part with the back pockets. Attach a ribbon (or just use the leftover denim) at the top as a tie.
For a one-day only smock, or if you need a whole bunch of smocks for one use only: use a large paper grocery sack. Cut out a hole in the bottom for the head, and two at the sides for arms (think homemade ghost costume from a sheet). Can also use trash bags if you are doing an especially water-y craft, like painting.
Pillowcase smock: same directions as above.
And don't forget: whichever idea you choose, everything is better with pockets. I mean, where else can they put their pet frog, or their rock collection, or the last slice of cake?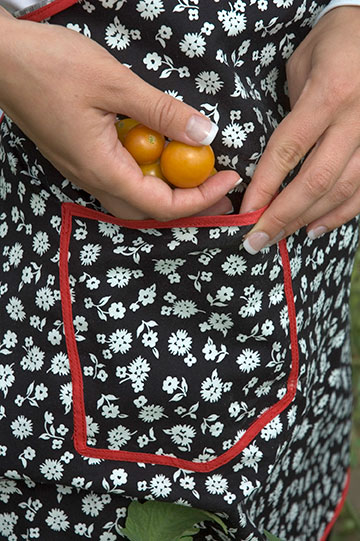 To make a pocket, simply fold the bottom hem of the smock over in a generous fold. Stitch at the sides. To make tiny pockets to hold individual paint brushes or crayons, make several straight stitches vertically throughout your large pocket with your sewing machine (if your Young Cultivator doesn't know how to use a sewing machine yet, this is a perfect jumping off point).
Now, you're ready for another cake break to decorate your smock and make it your own. You can:
Paint with waterproof fabric pens or paints.
Tie-dye it.
Applique it.
Sew on buttons.
Bedazzle it!
Add sequins or glitter with a glue gun (careful).
Stamp on it.
Write something fun with permanent markers.
Trim with lace, ribbon, or rick-rack.
Hot glue or sew on felt cutouts.
Googly eyes are always fun.
Nora, being of the philosophy that more is more and a girl can never accessorize too much, chose … all of the above.