It may be a bit early for spring flowers (although in-one-night, last night, I kid you not, my daffodils emerged and grew 2 inches),
but lacy hearts, bouquets, chocolate treats, and spoons are sprouting up everywhere.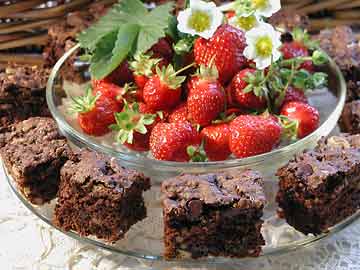 MaryJanesFarm Organic Brownies available HERE
"Whoa, MJ. Stop distracting me with brownies."
(Swoon.)
"I could have sworn you said 'spoons.'"
Typo?
Why, no …
I did say spoons.
Lovespoons, to be exact. One word, not two: lovespoons.
Before you begin to blush …
… look here:
Almost as delectable as the plate of brownies, isn't it?
This is an example of a Welsh lovespoon. Throughout northern Europe, Cupid-struck craftsmen began decoratively carving spoons to be presented as gifts of romantic intent as early as the 16th century.
"The lovespoon was given to a young woman by her suitor. It was important for the girl's father to see that the young man was capable of providing for the family and woodworking," explains Wikipedia. "Sailors would often carve lovespoons during their long journeys, which is why anchors would often be incorporated into the carvings. Certain symbols came to have specific meanings: a horseshoe for luck, a cross for faith, bells for marriage, hearts for love, and a lock for security, among others. Caged balls indicated the number of children hoped for. Other difficult carvings, such as chains, were as much a demonstration of the carver's skill as a symbolic meaning."