Some of us remember dressing up in our Sunday best on Easter, to-the-nines, complete with a frilly hat or bonnet. Nowadays, it's more about plastic eggs filled with candy, hunts in parks that get surprisingly competitive, and possibly making your toddler cry while posing for photos with a gigantic bunny rabbit.
Let's bring back the bonnet, farmgirls! The history of the Easter bonnet began after the Civil War, when people were desperate to bring some normalcy, fun, happiness, and even frivolity back into their lives. Dressing up for church in your Sunday best became something to look forward to, and after Lent, it seemed even more luxurious and exciting. Buying a new pair of gloves, adding some plumage to your top hat or some ribbons to your skirt was …
well, worthy of a parade, you might say.
The first large Easter parade was the Fifth Avenue Parade in 1870 in New York, but it happened a bit as an accident. So many people dressed up in their Sunday best that day, when they filed out of church at Saint Patrick's Cathedral and walked down Fifth Avenue, it had the look of an organized parade. Every year, Saint Patrick's Easter service attracted more and more church-goers, all dressed in their bonneted finery, and by the 1940s, over a million people were in attendance. Oh, how I love an (accidental) parade!
In the most recent years, the Easter parade has dwindled in size, but not in spirit. There are still predicted to be around 30,000 people this Sunday, outfitted in their best and most stylish clothes. Complete with hats, of course!
The film Easter Parade, with Judy Garland and Fred Astaire, and music by Irving Berlin, certainly boosted the popularity of Easter bonnets. Who didn't want to be just like Judy?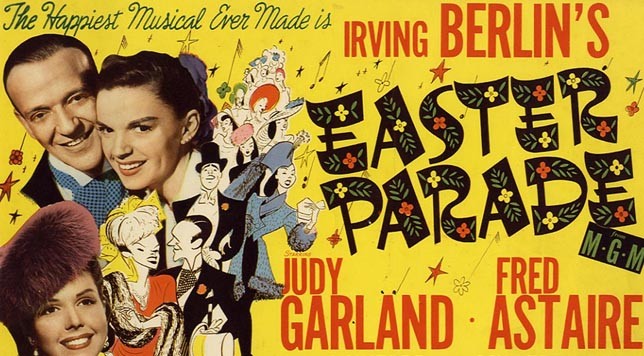 And in fact, the heyday of the outrageous and outlandish Easter bonnets was in the 1940s and 1950s, when ladies wore bonnets shaped like ginormous eggs, fluffy rabbits, clotheslines complete with tiny clothes and washboards, picnic scenes, crates of eggs with chicks peeking out, and bunny ears the size of small children! You can take a peek at some of the most outrageous (and probably headache worthy!) headpieces on Pinterest, like this collection, courtesy of The Eternal Headonist, an Australian hatmaker.
Let's bring back the Easter bonnet, ladies and gentlemen! Who's with me?