The adorable, always humorous MBA Jane is my way of honoring our Sisterhood Merit Badge program, now with 7,428 dues-paying members who have earned an amazing number of merit badges so far—10,782 total! Take it away, MBA Jane!!! ~MaryJane 
Wondering who I am? I'm Merit Badge Awardee Jane (MBA Jane for short). In my former life …  
For this week's Stitching and Crafting/All Buttoned Up Intermediate Level Young Cultivator Merit Badge, Nora and I picked up right where we left off.
Hands deep in the cookie tin.
No, not that cookie tin. The one with all the buttons in it.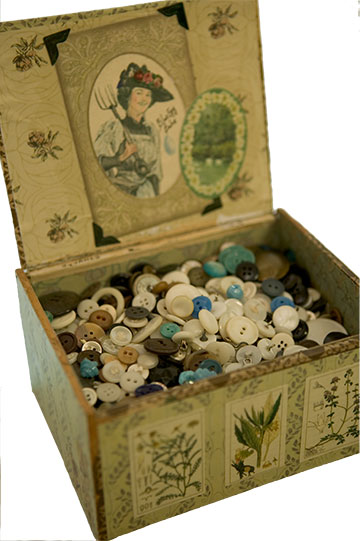 Now that she had her very own collection of super-adorbs buttons, it was time to learn their function (besides the functions Nora had come up with on her own: sorting and piling, gluing to things, and flipping across the room like miniature flying saucers).
Sewing them on fabric.
Now I'm not saying that I took this opportunity to teach this skill at this particular time just because I was in need of a button on my favorite apron … I prefer to call it perfect timing. A complete coincidence. And it wasn't my fault I couldn't replace my missing button myself: Nora had pilfered my own collection to bolster hers. I didn't have a spare button to my name.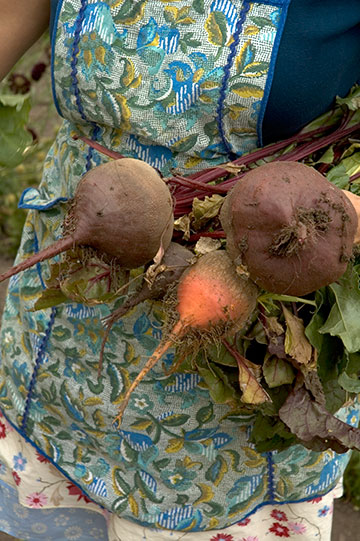 So, I got out a needle and thread and proceeded to teach the fine art of button attaching to my little protégé.
There was much wailing and poking and pricking and screeching and losing of the needle and losing of the button and losing of patience and demands for a tea and scone break. Such shenanigans. It was embarrassing really.
"Seriously, Aunty," said Nora, with a roll of her baby blues, "Are you about done with the dramatic show and shenanigans? I'm ready to learn this if you're ready to focus."
"Yes, er, sorry." I sucked on my sore finger and wondered where I'd stashed my thimble. "I'm better now. All focused. Pass me that apron, would you?"
Next to pockets, buttons are incredibly important to functional style. Plus, buttons can say a lot about you! Square, round, pliable, stiff, shiny, dull, colorful, sparkly, you name it, you can find it in a button. My apron was a cheery blue/green pattern, so I chose a button in a shade of bright green for a nice contrast.
I suppose you could say the purple thread I used to sew it on was also for contrast, but mostly it was because I couldn't find any green. Or blue.
I really need to organize my thread collection.
Is there a badge for that?
But back to the buttons. I worked on my apron, while snuggled up next to Nora, who was sewing her own yellow button on a scrap of fabric for practice before she attached one to a real item of clothing.
Turns out I was also snuggled up to the missing needle in the couch cushions.
Son of a tailor! My bottom was nearly Swiss cheese by the time I found that sucker. In the meantime, Nora had finished her button and was kindly finishing up mine. She really got the hang of it quickly, partly due to my What Not To Do demonstration.
The things I do for these kids. Turning myself into a sieve and whatnot.
Ah well. I can wear my favorite apron once again, Nora earned a new badge, and we finished off the afternoon with some tea and scones. It was a successful day, indeed.