Most of us know all the words—or at least the first verse—to most all of the famous Christmas carols. Or if you're like me, you might know some of the wrong words … ahem. Even though we only sing them one month out of the year, the lines and melodies come flooding back to our memories each December. Whether or not you engage in a little light caroling or just hum them while you're decking your halls, I thought you might like to know some of the stories behind our best-loved Christmas songs.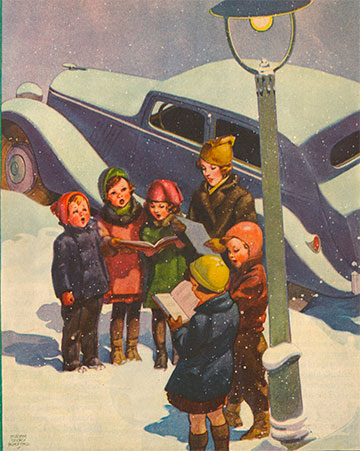 Do You Hear What I Hear? You might be surprised to learn this carol hasn't been around all that long. In fact, some of you are likely quite a bit older than this instant hit, written by Noel Regney and Gloria Shayne, in the oh-so-recent year of 1962. Regney, a World War II veteran, was so distressed one evening as he walked the streets during the time of the Cuban Missile Crisis, that the request from his manager to write a Christmas carol seemed far removed. Afraid of nuclear war and also disliking the commercialism of the holidays, Regney didn't see how he could write a simple Christmas jingle. Yearning for peace, he says he was calmed instantly by two little baby girls in a stroller, who smiled at one another. They reminded him of newborn lambs. See where this is going? He walked quickly home and wrote down all the lyrics to Do You Hear What I Hear? and asked his wife, a composer, to arrange the melody. "I am amazed that people can think they know the song and not know it is a prayer for peace," Noel Regney once told an interviewer. "But we are so bombarded by sounds and our attention spans are so short." Regney passed away in 2002, during the Christmas season.
Silent Night: This one has its origins all the way back to 1818. A roving group of actors had come to reenact the birth of Jesus in the village of St. Nicholas (how apropos, right?) in the Austrian Alps. The village's church's organ was busted (some say mice, some say rust), so they performed instead in a private home. This gave the young pastor of St. Nicholas quite a walk to get home later that night. As he roamed through the snowy, picturesque scene, he came to a quiet hilltop, where he stopped to mediate about all he had seen that night, especially the play centered on the first two chapters of John and the tranquil landscape he stood in. The next day, he had a poem which perfectly captured his heart: Silent Night. The organ still being broken, his friend composed a melody which could be played with a guitar. The piano music was added later.
Go Tell it on the Mountain: In the late 19th and early 20th centuries, John W. Work, Jr., and his brother, Frederick J. Work, began collecting and promoting the spirituals of slavery. Go Tell it on the Mountain was published in the brothers' book, Folk Songs of the American Negro. Most songs of slavery were not written down, but passed on through generations. A lot of the songs were also deeply coded, so as not to be deciphered by slave owners. For example, Harriet Tubman was referred to as "General Moses" in spirituals. The words "seeker" and "watchman" in Go Tell it on the Mountain most likely refer to a slave seeking freedom and the plantation overseer respectively.
I'll Be Home for Christmas: This classic—like so many immortalized by Bing Crosby—was written with the soldiers of WWII in mind. Melancholy but beautiful, it perfectly captured the moment in that time and era—a soldier yearning to be home in time for Christmas. The flip side to the original recording was the also wistful Danny Boy.
Santa Claus is Coming to Town: A jolly song with a surprisingly sad history, this one comes to us courtesy of James "Haven" Gillespie, in 1934. Gillespie was a vaudeville actor turned songwriter, and he was not having a wonderful year. Having fallen on hard times, he was commissioned to write a cheerful Christmas tune following the death of his beloved brother. Riding the subway that night, feeling as though the task was impossible and making up his mind to turn down the job, Gillespie was nevertheless inspired when he began to remember riding the subway with his brother as a child and their mother reminding them that "Santa was always watching." He wrote the lyrics in 15 minutes and it was an instant hit.
Good King Wenceslas was a real king, and a beloved one, too: Wenceslaus I, Duke of Bohemia, who ruled from 924 to 935, when he was assassinated by his own brother, Boleslav the Cruel. The lyrics date to 1853 from John Mason Neale, but the melody is much older; it came from a 14th-century carol, The Time is Near for Flowering. Good King Wenceslaus is now the patron saint of the Czech Republic.
Here Comes Santa Claus: This Christmas classic was written by an unlikely author in 1947. Clue: He was known as "The Singing Cowboy" and starred in 93 movies as well as his own television show. In addition, even though he didn't write them, he was also responsible for making two more songs into lasting holiday hits: Rudolph the Red-Nosed Reindeer and Frosty the Snowman. Where would we be without The Singing Cowboy, Gene Autry? (Fun fact: Gene Autry is also the only person to be awarded stars in all five categories on the Hollywood Walk of Fame: for film, television, music, radio, and live performance!)
What's your favorite carol?