The adorable, always humorous MBA Jane is my way of honoring our Sisterhood Merit Badge program, now with 7,504 dues-paying members who have earned an amazing number of merit badges so far—10,886 total! Take it away, MBA Jane!!! MJ 
Wondering who I am? I'm Merit Badge Awardee Jane (MBA Jane for short). In my former life …   
For this week's Stitching and Crafting/Toys Intermediate Level Young Cultivator Merit Badge, I brought along a willing Nora and a not-so-willing Andy. Being the eldest, Andy thought he was far too old to be playing with toys, especially of the "girly" doll variety.
I wrangled him into submission with a stern talk about being young-at-heart forever (can I get an amen?), the promise that once his badge was earned he didn't have to play with his creations if he really didn't want to (cough, cough), and also a rather ginormous slice of apple spice cake with homemade whipped cream.
You know what they say, the way to a man's heart is through his stomach.
Or is it, the way to a man's heart is through his ribcage?
Well, I've heard it both ways.
Anyway, to earn our Intermediate Level badges (Piper had earned hers earlier in the year and was patiently waiting for us to catch up), we needed to make some DIY paper dolls or finger puppets. Still nursing paper cuts from my experience with Piper, we settled on finger and sock puppets for Andy and Nora.
Perfect for a rainy afternoon, I got out my basket of scrap material and the catch-all of abandoned and single socks I keep next to the dryer. You know the ones: hard to toss because you're sure the mate is around here somewhere, but he's probably off gallivanting in some sort of mid-life sock crisis, driving a convertible, and flirting with striped knee-highs and sophisticated argyles.
Having given up all hope of ever seeing their mates ever again, they were relegated to official Sock Puppet Status (except one polka-dotted thigh-high who had ambitions to be a Sock Monkey one day). Andy got to work, his tongue between his teeth in what I had learned long ago was standard Andy concentration mode.
Nora was more interested in the finger puppet variety (she loves her some miniatures), and she spent hours making families. A few different ways she experimented making her finger puppets were:
Felt. Lots of felt! Even if you don't make the bodies out of felt, you're going to want lots of color varieties for facial features and accessories. But if you do want to make the bodies from your felt collection, it's easy: cut out tubular shapes slightly larger than your fingers and sew or fabric glue together.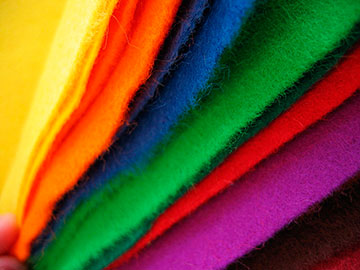 Crochet or knit your finger puppet bodies.
Using pipe cleaners, twist very loosely around your fingers (you want to be able to remove them and put them back on again). Attach your heads made of felt to the tops using glue.
With construction paper or cardboard, cut out animals or people shapes. Punch two holes large enough for fingers to be inserted through in the bottom of each puppet. This will give your character "legs," which can be quite hilarious in your puppet show.
Snip apart old gloves (remember when I mentioned my Lonely Hearts Sock Single Club in my laundry room? There's another chapter in my hall closet, but for gloves). Use the separate fingers to decorate into puppets.
Don't forget to add googly eyes, glitter, hats, sequins, etc. Decorating these are almost as much fun as playing with them afterwards. While Andy insisted his collection was being given away for Christmas gifts for his small cousins, I did notice he pocketed his favorite when he thought I wasn't looking.
Don't worry, Andy, real men CAN play with puppets! Think of all the Muppets! And just watch Fred Astaire and Edward Everett Horton playing with finger puppets in the 1934 film classic, The Gay Divorcee.
Continue reading