"Look! There's a farmer riding down the road."
In a bulky Carhartt coat. And leather gloves, work jeans. And … a flashy speedo helmet. "Where did Spandex go?," said Helmut.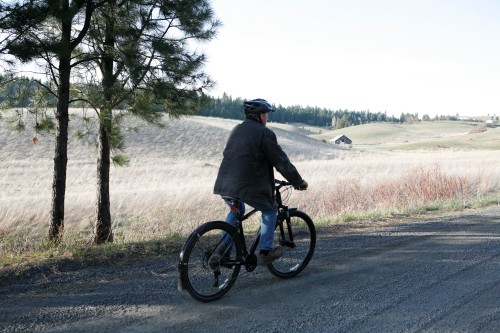 Why, it's …
This story has its origins in an era long ago, 34 years ago, to be exact. I was pregnant with my daughter and living in a 14-foot travel trailer parked next to a public restroom, located next to a small bungalow "house" on the outskirts of Grangeville, Idaho. I'd just spent the winter living on a remote ranch on the Joseph Plains without electricity, or phone, or TV, or … you name it, I was without it. Travel to the 30,000 acre ranch took 4-6 hours via dirt road or 4-6 hours on a jet boat coming up the Snake River from Lewiston. Did I say remote? If you know anything about that part of the country, you know it's the place that time forgot. It isn't a popular designated wilderness area. It's wilder than that. And emptier. Along that 4-hour-dirt-road-drive, there were probably 20 old, crickety, barb-wire gates you had to stop and open, stop, shut again. These were unimproved, bumpy, SLOW, dirt roads. You knew to travel with a saw in case you came across a tree that was down. That's the 6 hours part of 4-6 hours. We did have "neighbors," about 10. Total. All of us living hours apart. The 4-hour trip up the Snake River was made 6 hours not because of trees that were down, but because the operator of the boat stopped every few miles to check his traps and toss a dead beaver or muskrat into the boat.
On a bright sunny, spring day, an old tattered truck pulled up to my trailer. I was surprised to see one of my former neighbors. He said, "Jean got thrown from her horse. She's pretty bad. Can you come and take care of her for a while and fix us our meals?" (Men. If you know what I mean.) "Of course," I said. We loaded up a few of my essentials (I had next to nothing) and drove off, my treadle sewing machine roped down for the ride.
Our daily routine, 7 days per week, consisted of breakfast (meat, potatoes, eggs), lunches packed for the two cowboys (one of them her husband), and then dinner. While they rode the range, Jean and I "managed." Such a tiny thing (not an ounce more than 100 pounds), she had several broken bones and lots of bruises. Nevertheless, with me going on five months pregnant and Jean in a foot cast, in a wheelchair, and an arm sling, we spent the entire day surviving—getting firewood, going to the root cellar, fetching water, washing clothes by hand … those kinds of things. This wasn't condo living.
One day as she sat in her wheelchair, staring out the window (our entertainment was the sound of the wind), she said in a startled voice, "There's a guy running down the road!" I went to the window. "That's a jogger," I said. "A what?" she asked. "He's running, you know. For exercise." "Oh," was all she said. I never did find out how a jogger ended up on the Joseph Plains. Maybe a relative, from say, Chicago, visiting one of the neighbors. Long jog, I'd say. I think we call it duration running now. At least I didn't have to explain to her what a blogger is. Or Facebook.
So, when you see my farmer husband out exercising, say. "Look, there's a farmer, riding down the road!"