The adorable, always humorous MBA Jane is my way of honoring our Sisterhood Merit Badge program, now with 5,518 dues-paying members who have earned an amazing number of merit badges so far—7,301 total! Take it away, MBA Jane!!! MJ
Wondering who I am? I'm Merit Badge Awardee Jane (MBA Jane for short). In my former life …
For this week's Farm Kitchen/Unprocessed Kitchen Merit Badge, I was moving up the ranks to Intermediate and Expert Levels. That's right: you've come a long way, baby! Why yes, I have, and thanks for noticing. First up:
Level Deux
This badge, my little dears, is a piece of cake. Well, not a literal piece of cake, more like a cracker. Unprocessed, organic, nutritious and delicious, homemade Cheez-its.
Oh. Yes.
You. Are. Welcome.
But not just homemade Cheez-its. Oh, never let it be said! For this particular level, I needed to replicate two used-to-love-em-had-to-have-em-not-so-good-for-you-unwholesome-guilty-pleasures. For the second recipe idea, I had to wrack my noodle.
And then it came to me:
Noodles!
More specifically, macaroni and cheese. Ah, that blissful bowl of ooey gooey, melty, comfort food! It's like heaven in a bowl.
A large bowl.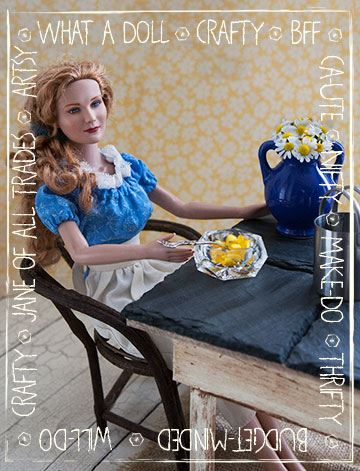 Which I do not share.
Evidently, I have a thing for cheese. (So glad there's a Cheese Making Badge. I am SO rocking that one again soon!)
Anyway, my love of cheese has evolved over time. It's matured, you might say. (Haha, see what I did there? Just a little cheese humor for you.) I used to buy large, inexpensive blocks of Mild Cheddar, generic brands of Mac 'n Cheese in a box, and turned up my nose at the more … shall we say, stinky, realms of cheese. And realms they are! But I'm following a bunny trail here. Back to Cheez-its! I experimented a bit with my recipe until I found the most delicious and scrumptious one. I tweaked, I added, I took away, I halved, I doubled, I mixed, I sampled, and I ate my weight in snappy, crunchy, bite-sized perfection.
All for you.
The things I do for you! The sacrifice! The servitude!
Okay, okay, you got me. This badge was heaven to earn.
Parmesan and White Cheddar Crackers
6 ounces Extra Sharp White Cheddar Cheese, grated
2 ounces Parmesan, grated
1/2 stick of butter
1 t kosher salt, plus more for sprinkling
pinch of cayenne pepper (or paprika if you are feeling less than spunky)
1 cup unbleached, organic flour
2 T cold water
Put everything, minus the water, into your food processor. Mix, and then dribble in your water until a crumbly dough forms. Wrap in plastic wrap and put in fridge. Try to forget about it for about an hour. Fail miserably. Remove, roll out thinly, and cut into shapes. I used a pizza cutter and went a little nuts. I may or may not have a cracker in the shape of Elvis, but you can just go with traditional squares if you must. Bake at 375°F for 15 minutes.
Enjoy your snack of bliss. You earned it.
Homemade Mac 'n Cheese
6 oz organic penne, cooked quite al dente
For sauce, make a roux (1/4 cup butter, melted, then whisked with 1/3 cup flour, and finally, about 3 cups of organic, local milk). Add to this concoction: 3 cups of semi-hard cheese, like an aged Gouda or a Sharp Cheddar; 1/2 cup softer cheese, like a Bleu or a Havarti; salt; and pepper. Stir into your penne, top with more cheese if you please (and you will … be pleased, I mean) and bake in a buttered cast-iron skillet at 350°F for about 20 minutes.
Try to share. But I won't judge you if you don't.