"Look! There's a farmer riding down the road."
In a bulky Carhartt coat. And leather gloves, work jeans. And … a flashy speedo helmet. "Where did Spandex go?," said Helmut.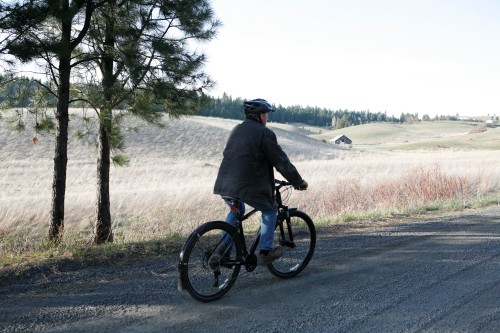 Why, it's …
This story has its origins in an era long ago, 34 years ago, to be exact. I was pregnant with my daughter and living in a 14-foot travel trailer parked next to a public restroom, located next to a small bungalow "house" on the outskirts of Grangeville, Idaho. I'd just spent the winter living on a remote ranch on the Joseph Plains without electricity, or phone, or TV, or … you name it, I was without it. Travel to the 30,000 acre ranch took 4-6 hours via dirt road or 4-6 hours on a jet boat coming up the Snake River from Lewiston. Did I say remote? If you know anything about that part of the country, you know it's the place that time forgot. It isn't a popular designated wilderness area. It's wilder than that. And emptier. Along that 4-hour-dirt-road-drive, there were probably 20 old, crickety, barb-wire gates you had to stop and open, stop, shut again. These were unimproved, bumpy, SLOW, dirt roads. You knew to travel with a saw in case you came across a tree that was down. That's the 6 hours part of 4-6 hours. We did have "neighbors," about 10. Total. All of us living hours apart. The 4-hour trip up the Snake River was made 6 hours not because of trees that were down, but because the operator of the boat stopped every few miles to check his traps and toss a dead beaver or muskrat into the boat.