Barbie has taken a lot of flack over the years. The brunt of countless jokes and the unwitting victim of scathing criticism, this deceptively dulcet darling has hung in there with her head held high.
Barbie knows how to stay on her toes, if you know what I mean.
Of course, doll devotees (count me in) have always known there's more to Barbie that just a pretty plastic package. After all, she has seen generations of girls through good times and bad. She inspired our daydreams. She forged our fashion sense. Barbie helped lead us gracefully along the winding path to lady-hood.
That deserves a dollop of deference, don't ya think?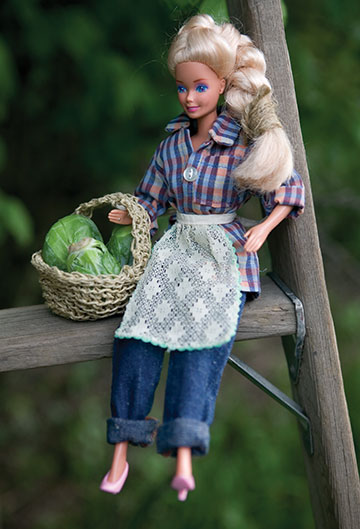 True to form, Barbie continues to evolve with the times, and she only gets more benevolent with age. Our golden girl, the original American idol, has a heart every bit as bountiful as her bosom—and she's losing her lustrous trademark locks to prove it.
It all started with a Facebook page called "Beautiful and Bald Barbie! Let's see if we can get it made." The group garnered thousands of "likes" within hours of its launch (the latest count was 159,000!).
Co-founder Beckie Sypin's 12-year-old daughter lost all of her hair after chemotherapy, and it makes sense to Sypin that a hairless Barbie would help girls like her daughter cope with cancer and other conditions that cause hair loss.
Photographer and co-founder Jane Bingham, who lost her hair during treatment for non-Hodgkin's lymphoma, says it's all about reducing the stigma surrounding hair loss. Beauty, she asserts, is not based on hair alone.
You guessed it—Barbie's on board.
Her manufacturer, Mattel, plans to distribute limited edition bald and beautiful Barbies to hospitals treating children with cancer throughout North America, and the dolls will also be donated to the National Alopecia Areata Foundation. Meanwhile, Bingham is lobbying Mattel to sell the doll in stores.
Not surprisingly, Barbie is setting a trend once again. MGA Entertainment announced a pending line of bald Bratz and Moxie Girlz called True Hope. For every doll purchased, one dollar will be donated to cancer research at City of Hope Cancer Center in Duarte, California.
Way to go, Barbie. I always knew you were a chick with a conscience. (Remember, she's a girl's pretend doll. She can BE about whatever a girl wants her to be about. Mine was a farmgirl no doubt … who just happened to garden in her tippy toes.)
I still have all the clothes my mother made for my Barbie. Get this. My mother used the blunt end of darning needles to knit her several outfits. Wow. If my mother were here today, I'm sure she'd make her several fashion caps.