The Palouse-Clearwater Environmental Institute http://www.pcei.org/ that I founded 25 years ago, had a weekend fundraiser, "25 chairs for 25 years." Members of the community signed up to decorate an Adirondack chair, provided by PCEI, parade it around town and at our local farmers' market, and then attend a live auction. The chairs were art at its best! Take a gander and then get out your tools. You'll want to do this in your own home town or at least, your backyard to your own chairs.
This photo typifies PCEI … a smart car and lots of bikes parked on our 13 acre campus smack-dab in the middle of town surrounded by houses on all four sides.
                   Trailer full of bikes, just in case someone needs transportation, sorta like taxis waiting.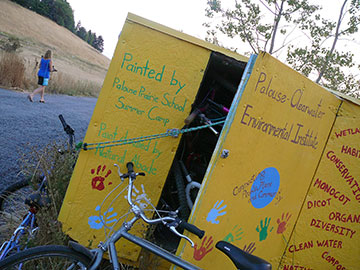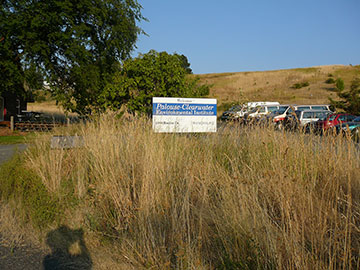 PCEI offices.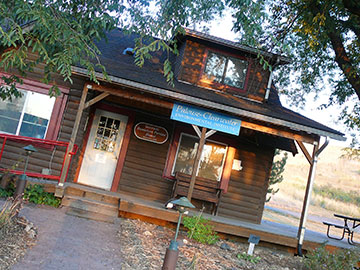 A hand-built cob building with living roof.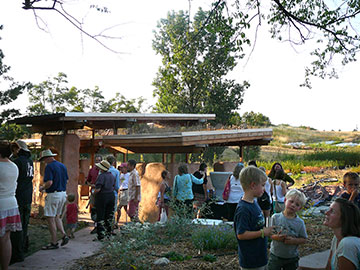 PCEI starts and then plants hundreds of thousands of trees every year along creeksides and reclaimed farm land.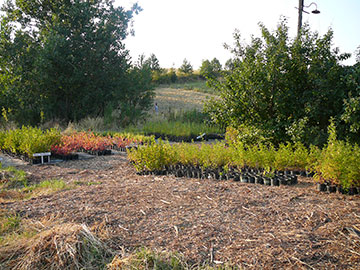 Free organic ice cream!!!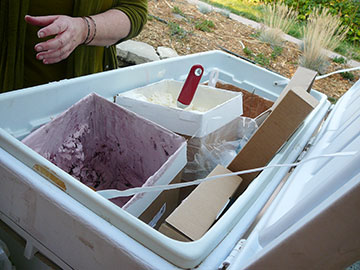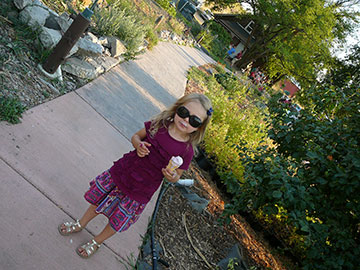 My grandkids spent serious time on the old-fashioned carousel. Top right is an artist's retreat that local residents rent for thoughtful reflection.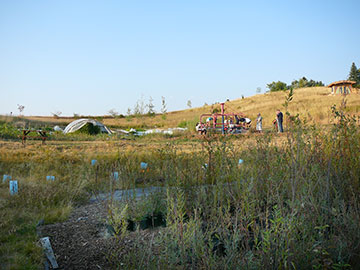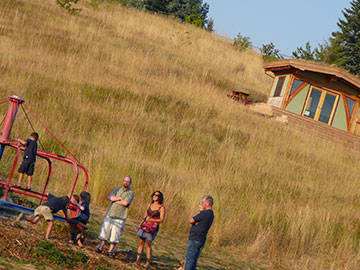 Loved this bandana skirt.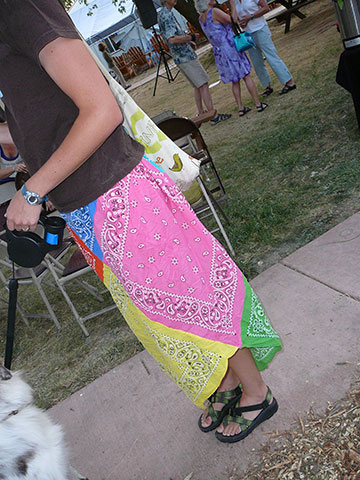 Major donor names on bricks in the sidewalk.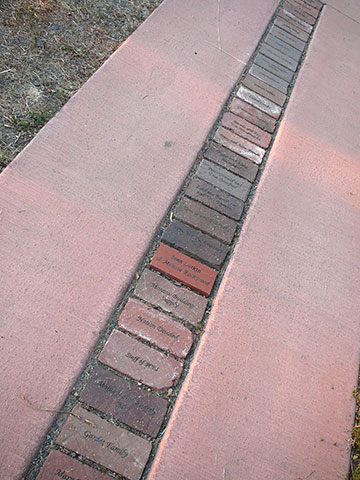 My daughter's best friend has a bridge over the creek in her name.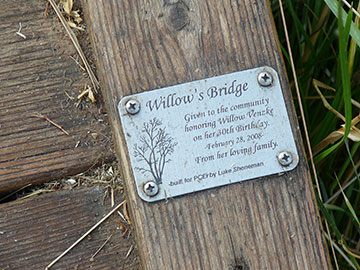 Carol, my designer, and her friends hangin' out. They made the "Girl Genius" chair you're about to see.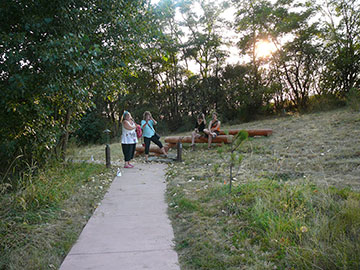 Close up of Carol's new blouse.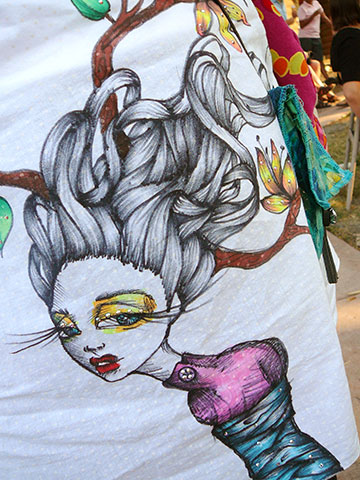 Carol and Stella wading in the "creek" that runs down the center of the sidewalk (embedded recycled glass).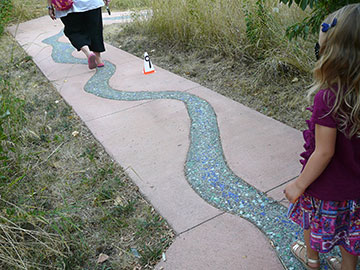 Tom Lamar, my replacement as Executive Director, gets the live auction for the 25 chairs underway.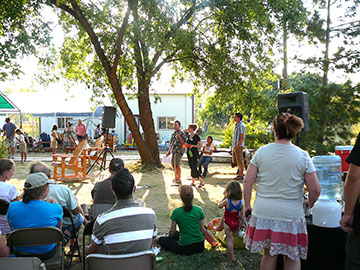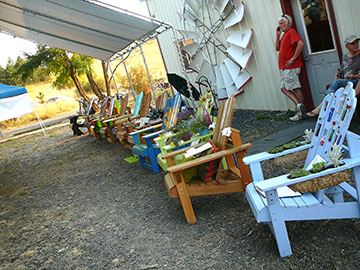 Skateboard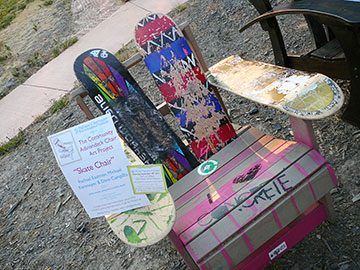 Quilted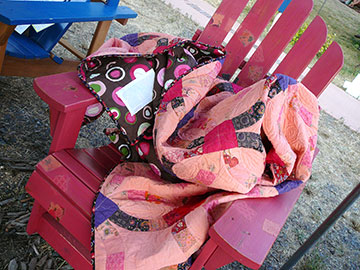 Carol's "Girl Genius" chair.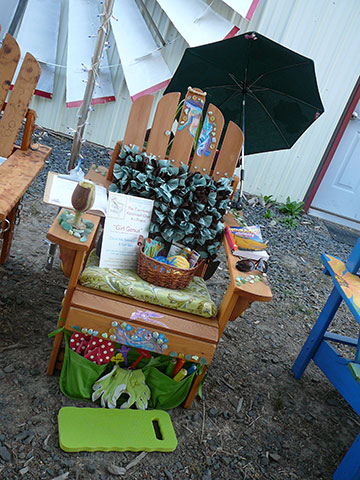 Sunflower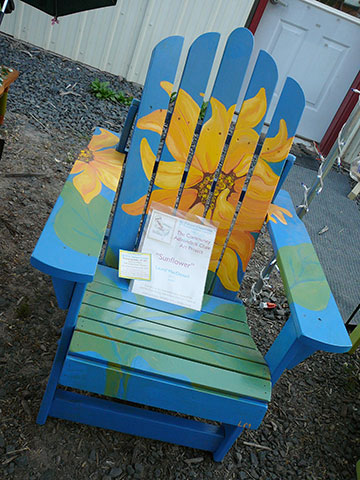 Wine and Garden Club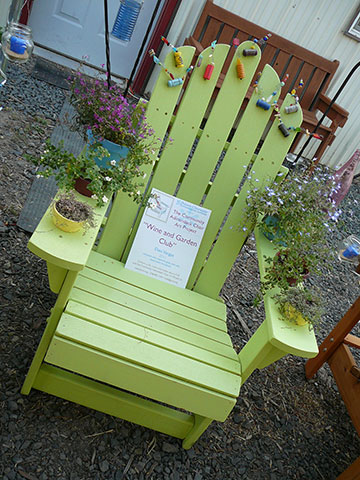 Garden Goddess
Herbs, Bottles, and Seeds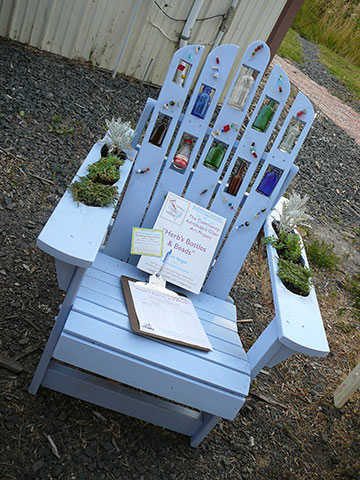 Signatures of the Palouse. (Everyone who stopped by the PCEI campus this summer signed this chair.)
Grandpa's Porch Tales (all hand carved!)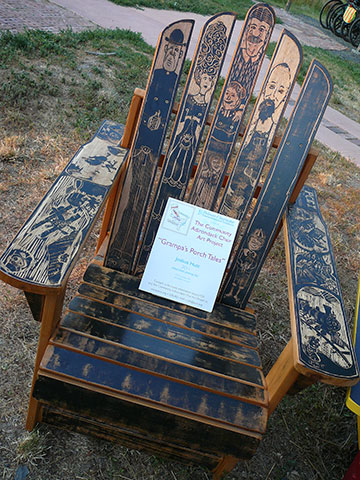 Contemplation Chair (wine corks)
Lifeguard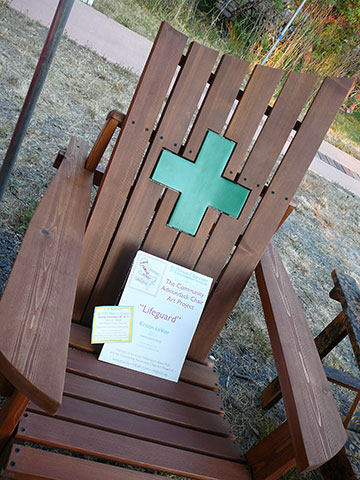 Black Rose Tatoo (Gorgeous!!! Decoupaged lace.)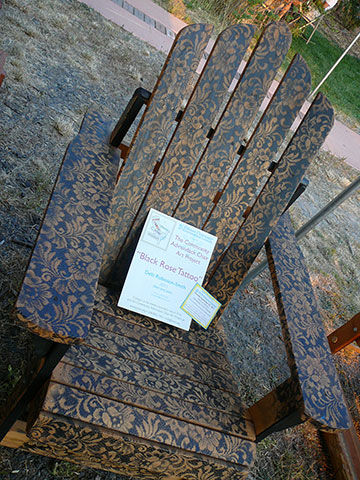 Day of rest.
Every chair sold for a handsome price and traveled to a new home at the end of the day.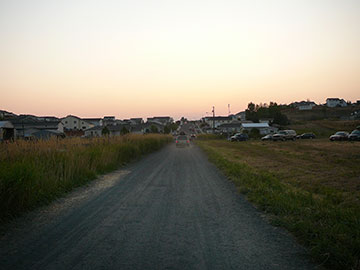 Life is good.