My grandgirls' sparkly pink Toms shoes they've been wearing this summer are THE fashion statement.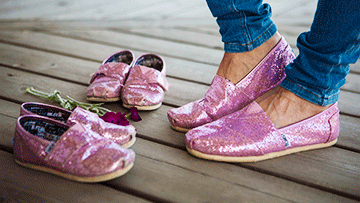 And so, like granddaughter, like grandmother …
Isn't that how the saying goes?
Matching sparkly pink shoes were a given. (Don't worry, we only trade in our trusty cowgirl boots during the heat of the summer.)
Speaking of smitten, the whole concept behind Toms shoes is definitely something to admire.
Toms is committed to its One for One Movement, created by company founder Blake Mycoskie after a trip to Argentina in 2006. It's so groundbreakingly simple, it's astonishing: For every pair of shoes purchased, the company gives a pair of shoes to a child in need. One for one—that's how the saying goes at Toms.
In developing countries, where soil-transmitted diseases are a leading cause of illness, shoes are not, as they often are for us, a matter of style or convenience. They are a crucial element to living a healthy life.
Having a pair of shoes can also provide a child with the opportunity to get an education. Many schools require shoes as part of their uniform, and a child without shoes will not be allowed to attend.
More recently, Toms has made the same one-for-one commitment for eyeglasses. For every pair of Toms eyeglasses purchased, the company will help one person in need regain or improve their sight.
Toms chose to also focus on the fundamental need of sight because, according to the company, 90% of the 285 million people who suffer from vision impairment live in developing countries and 80% of them can be helped significantly by available solutions like a pair of eyeglasses or a simple 15-minute cataract surgery.
Regaining or improving eyesight allows children to attend school and adults to go to work. It's transformational for not just the individual, but for whole communities.
Blake has recently authored a book, Start Something That Matters, in which he shares the story of Toms, along with the equally inspirational stories of other social entrepreneurs.
And here's a fun fact: There is no one named Tom behind Toms shoes … Toms is a shortened version of the company's basic premise: shoes for a better TOMorrow.
My brand-new, sparkly pink shoes make me happy for so very many reasons, I thought I'd put them and our new baby chicks up to something FASHIONISTA.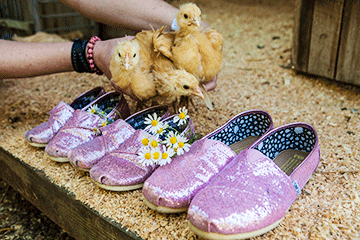 That's when the kissing began.
Smooched and them smooched some more. It was a day for kissin' all around.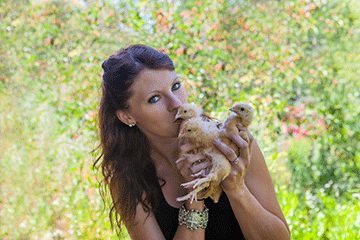 Find out more about Toms and Blake (and buy your own pink sparklers) at www.toms.com.
(And as recommended on their website, buy them one size smaller. I'm a size 7.5 so I bought a 6.5 and they're the perfect fit now that I've worn them for a day.)