I'm always in awe of organizations I run across that take on huge issues. The other day I discovered one in Coeur d'Alene, Idaho, where I have one of my two retail stores. On a quiet Sunday morning, I pulled over, snapped a photo, and then came home to my computer to find out more.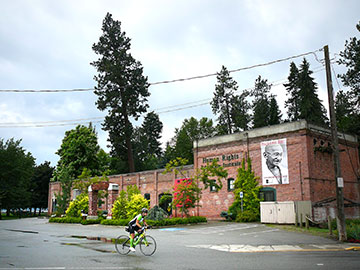 Human Rights Education Institute
Okay, that's a huge issue. Tell me more …
The Human Rights Education Institute (HREI) is housed in a beautiful historic brick building in downtown Coeur d'Alene, where they host weekly events for children and families; curate educational exhibits and art installations; present lectures; and offer training for local business leaders, educators, and community members.
Following their mission to "celebrate diversity and promote human rights by educating, raising awareness, and inspiring transformation" in the community, HREI has become a recognized and award-winning resource to "honor differences while working toward common goals."
HREI was founded on the same principles outlined in the U.S.Constitution http://www.archives.gov/exhibits/charters/constitution.html/ and the United Nation's Universal Declaration of Human Rights, http://www.un.org/en/documents/udhr/index.shtml, which they feel "establish the principles of the dignity and worth for every human being," and they cite seven values that guide their work:
1. Human Rights
2. Education
3. Respect
4. Dignity
5. Diversity
6. Inclusivity
7. Partnerships
Think a group of caring, concerned citizens can't make a difference? Think again.
The seed for HREI was planted back in 1981 when a group of community members came together to take a stand against hate and harassment in the Inland Northwest. This group of citizens formed the Kootenai County Task Force on Human Relations, and they were instrumental in the passing of state laws against harassment. Their work even resulted in Idaho being awarded the prestigious Raoul Wallenberg Civic Award (http://www.raoulwallenberg.org/aboutus.htm.html) given to communities and organizations that display great "humanitarian spirit, personal courage, and nonviolent action in the face of enormous odds."
In 2000, the Task Force filed and won a lawsuit against the Aryan Nations on behalf of local citizens.
HREI came into official existence in 1998, as a way for the Task Force to educate the community on human rights issues, and their center in downtown Coeur d'Alene opened in late 2005.
Now, that's what I call making a difference.
Want to get involved? HREI encourages you to learn, participate, and/or give … and  you can do any of the three by going to their website at www.hrei.org.