You may not be interested in war, but war is interested in you. –Leon Trotsky
Born from the rubble of war-ravaged Sarajevo in the early '90s, two unforgettable novels have given me vivid insight into the chaos, devastation, and ultimate triumphs of human spirit that were happening while I was living a safer reality—tending my farm, writing books, and sleeping comfortably in my bed a world away.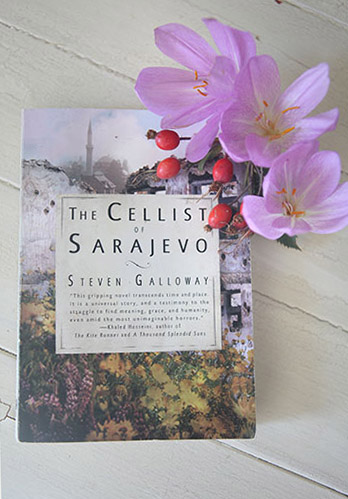 The Cellist of Sarajevo by Steven Galloway opens amid the city's siege but narrows its focus to a musician who watches as 22 of his friends and neighbors, waiting in a breadline, are killed by a mortar attack. In tribute, the man summons the courage to play his cello at the site of the attack each afternoon for 22 days, defying omnipresent snipers who have surrounded the city. As the days go on, more and more of the residents, under siege, come out from hiding to listen and lay flowers at his feet, and in doing so risk their lives. Along the way, something miraculous happens.
Much of this book's unforgettable beauty spirals from the cellist himself as the story delves into the lives of three other characters within earshot of his music: a father who runs the city's gauntlet, dodging sniper fire to get water for his family in milk jugs once per week from the building below (one of only a few places where water is still available because the rebels who've surrounded the city have cut off food and water to the city), and another man nearly paralyzed by fear, and a young female sniper who struggles with her own morality.
Though Galloway's book is fiction, it was inspired by cellist  Vedran Smailovic, who actually did play his instrument for 22 days among the ruins of Sarajevo in 1992 where he watched his friends die from a mortar shell while standing in line for food. The book captures the essence of Smailovic's courage and illuminates the power each of us has to elevate our hearts from the depths of fear and grief.
The author's love of books, art, and culture come through loud and clear in this book. The unspeakable horrors of war and why it continues to haunt us in the most unexpected places, like Sarajevo, is what made this book such an important read for me. I kept saying to myself, "This could happen here."
Coming soon is Angelina Jolie's directorial debut, The Land Of Blood And Honey. It's about a Muslim woman and a Serb man who fall in love at the beginning of the war during the 1990s – a highly controversial subject, even to this day. It was shot on location. As the Goodwill Ambassador for the United Nations High Commissioner on Refugees, Angelina has been to Bosnia-Herzegovina on several occasions in addition to when she filmed there.
Angelina and Brad Pitt traveled again to Sarajevo recently to attend the 17th annual Sarajevo Film Festival (I pictured it to be very much like the Sundance Film Festival in Park City, Utah) where she was awarded the Honorary Heart Of Sarajevo award.
On a grander scale, Geraldine Brooks' People of the Book begins in …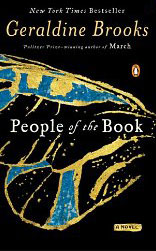 … Sarajevo in 1996 and sets out to map the epic journey of Sarajevo Haggadah, a 15th century Hebrew manuscript believed by most scholars to have been stolen or destroyed when it disappeared during the siege in 1992.
In Brooks' tale, UN officials seek out Australian rare book expert, Hanna Heath, to inspect the Haggadah for authenticity. Hanna discovers intimate clues within the book's ancient bindings—an insect wing, wine stains, salt crystals, and a white hair—that compel her to unravel the mysteries of its past.
This novel covers vast territory, both in terms of geography and history, following the Haggadah around the globe from the time of its creation and tracing its circuitous path among courageous guardians who passed it safely from one generation to the next. In Hanna Heath's care, the Haggadah inspires her to overcome her own troubled past and rely on her instincts in order to carry forth the courage of those that came before her.